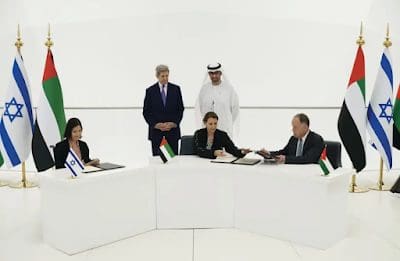 John Kerry, the former US secretary of state currently serving as President Joe Biden's special climate envoy, finally got to help hammer out and watch the signing of a Middle East agreement on Monday.
It wasn't, however, an Israeli-Palestinian accord, one that former defense minister Moshe Ya'alon said Kerry was "obsessive and messianic" about brokering.
Rather, it was the signing in Dubai of a tripartite energy-water accord between Israel, the United Arabs and Jordan.
Under this accord, a government-owned UAE firm will build a massive solar energy facility in southern Jordan, which will then sell the energy to Israel. Israel, in turn, will either build a new desalination plant or provide Jordan – via its current desalination facilities – with some 200 million cubic meters of water per year, quadrupling the amount of desalinated water it currently sells the Hashemite Kingdom.
Kerry, standing alongside UAE Crown Prince Mohammed bin Zayed, looked on as Energy and Water Resources Minister Karin Elharrar, UAE Climate Change Minister Mariam Almheiri, and Jordan Water and Irrigation Minister Mohammed Al-Najjar signed the agreement.
The irony was striking since it was Kerry – in a terrible prediction that will always accompany a discussion of his Mideast diplomatic legacy – who famously said, at a conference in 2016, that Israel would never reach a separate peace with any Arab nation without first signing an agreement with the Palestinians.
READ MORE
Abraham Accords are helping Israel transform the Middle East  https://amos37.com/abraham-accords-are-helping-israel-transform-the-middle-east/