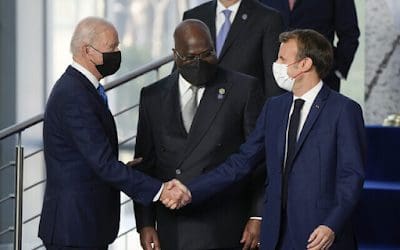 ROME (AP) — As Iran's nuclear program makes troubling advances, United States President Joe Biden is set to huddle Saturday with European allies to talk through strategy as they press for a diplomatic resolution — and to plan for the possibility Iran declines to return to the negotiating table.
The meeting with the leaders of Germany, France, and Britain — known as the E3 — comes at a pivotal time, as Iran continues to enrich uranium to near-weapons-grade levels. Biden is trying to revive the 2015 nuclear deal and bring Iran back into compliance with the pact that aimed to keep the Islamic republic at least one year away from the potential to field a nuclear weapon.
US national security adviser Jake Sullivan said the meeting with Germany's Angela Merkel, France's Emmanuel Macron, and Britain's Boris Johnson would feature the leaders "all singing from the same song sheet on this issue."
He called it a "study in contrast with the previous administration since Iran was one of the areas of most profound divergence between the previous administration and the Europeans."
The United Nations' atomic watchdog has said Iran is increasingly in violation of the deal, known as the Joint Comprehensive Plan of Action. Former US president Donald Trump withdrew the US from the 2015 nuclear deal and the US has participated indirectly in talks aimed at bringing both Washington and Tehran back into compliance. Those Vienna talks have been on hiatus since June, when Iranian President Ebrahim Raisi took power.
Britain, France, Germany, Russia, China and the European Union remain part of the deal. READ MORE
Biden, Europeans to discuss Iran nuke strategy, plan in case Tehran ends talks  https://amos37.com/biden-europeans-to-discuss-iran-nuke-strategy-plan-in-case-tehran-ends-talks/