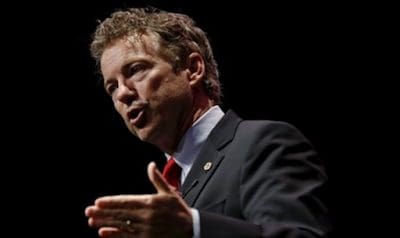 It might otherwise have been delightful to witness a lone irregular Republican senator join with a handful of insufferable House Democrats who take a bipartisan stand over process and money in the halls of Congress.
Yet $1 billion to replenish Israel's Iron Dome missile system – a defensive system, mind you – was thrust into the midst of this legislative showdown. It was instead chilling, not delightful, to witness the spectacle.
The usual Israel-bashers in the House of Representatives exercised their influence on Sept. 21, compelling Democratic leaders to excise the $1 billion from an unrelated emergency government funding bill. Two days later, the House approved the Iron Dome allocation in a separate measure by a vote of 420-9 with two voting present.
This past Monday, Republican Sen. Rand Paul of Kentucky swore to continue to block the funds in the Senate when Democratic Sen. Bob Menendez of New Jersey sought to fast-track legislation for the expenditure which President Biden has said he will sign.
"It's not about Israel, it's about, once again, leadership, throwing something on our table last minute and expecting us to decide in five minutes what to do with it, that's the bigger problem," said Rep. Jamaal Bowman, who represents parts of the Bronx and Westchester County, according to the Jewish Telegraphic Agency.
Bowman and other members who periodically bash Israel – as opposed to offering legitimate criticism – put all Israel supporters on notice that the Democrats' 95-member progressive caucus will subject Israel-related expenses to closer inspection in the future.
Most progressives voted for it this time because the debate apparently convinced them that Iron Dome solely operates to protect Israelis, not to attack Gaza or anyone else.

Rand Paul piled on last Monday when he applied circular reasoning to the debate:

In the debate over process it must have been mere "coincidence" that Israel was involved.
I will concede that some credible points were raised by Bowman, who ultimately voted for the funds, but some comments from Bowman himself and other representatives were warped, vicious and distorted. Once the bill reached the Senate, Sen. Paul's follow-up move was at best confusing.
Whether intended or not, Israel was isolated from all else. Any argument about procedure can just as readily be applied to a wide range of issues. It reminds me how I have been treated because I am Jewish. READ MORE
Coincidence? Iron Dome triggers rare bipartisan stand over process in Congress  https://amos37.com/coincidence-iron-dome-triggers-rare-bipartisan-stand-over-process-in-congress/