The chaotic path of Ye (formerly known as Kanye West) in the entertainment industry is also a revealing one. The bizarre events and controversies surrounding the rapper, combined with his outspoken nature, have provided rare glimpses into the dark side of Hollywood. And, in his latest outburst, Ye exposed yet another important fact: A great number of celebrities are literally mind-controlled by powerful handlers. And he knows this because he's one of them.
On November 3rd, Ye tweeted a forceful text message he received from his "personal trainer" Harley Pasternak. Judging by the contents of this message, Pasternak has much more power over Ye than telling him to do one more sit-up. He's apparently in total control of his life. To quote one of Ye's songs: No one man should have all that power.
Here's the tweet.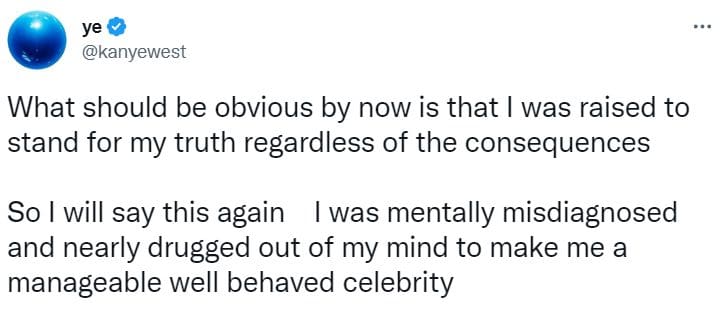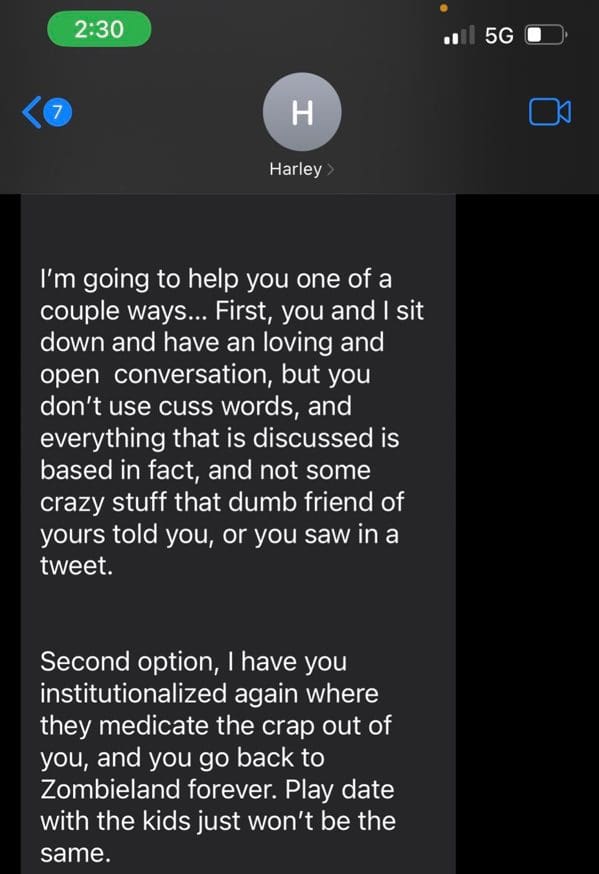 In the text message, Pasternak threatens to institutionalize and medicate the crap out of Ye, even stating that he'll be back in "Zombieland forever" (drug-and trauma-induced dissociation). Obviously, those are not the words of a regular personal trainer. Those are the words of a handler who exerts extreme power over a celebrity who happens to be insanely rich and influential.
The text message refers to Ye's 2016 internment where he was handcuffed and forcibly hospitalized at Ronald Reagan UCLA Medical Center.
Guess where Ye was when this happened? At Harley Pasternak's house. Guess who called authorities because Ye was "acting erratically"? Harley Pasternak.
The house that firefighters and police responded to is owned by Harley Pasternak, a celebrity trainer with clients that come to him. Pasternak was seen leaving his house Monday night, but would not comment on West.
– NBC Los Angeles, "Rapper Kanye West Hospitalized in LA After Canceling Saint Pablo Tour
Here's a TMZ video of Pasternak leaving his house after Ye was taken away. He was not talkative.
The drugs and "treatments" administered to Ye during his internment were so severe that he reportedly suffered memory loss in the months that followed. As explained in previous articles, this "symptom" is a hallmark of MKULTRA-style programming using electroshock therapy.
Since this ordeal, Ye was never the same. And, in the text message above, Pasternak threatened to send Ye back to this chamber of horrors. How can a "personal trainer" exert such power on one individual? It's only possible when the trainer is actually a handler.
Celebrity Handler
Throughout the years, Harley Pasternak worked with a long list of celebrities, many of which were discussed on this site for being industry slaves such as Lady Gaga, Megan Fox, Ariana Grande, Rihanna, Jennifer Hudson, and Gwen Stefani.
Another notable client of his was Brittany Murphy who died in mysterious circumstances. Another notable client of his was Mac Miller who also died in mysterious circumstances.
Pasternak also worked with Ellen Page (who became a transgender man), Megan Fox (who drinks blood in rituals), Miley Cyrus (a child-star MK slave), Katy Perry (an industry slave who recently malfunctioned), and, of course, Kim Kardashian (the figurehead of Hollywood's most prominent coven).
In short, Pasternak appears to be a link between Hollywood stars and the occult elite that seeks to control them. What better cover for such an operation than a "personal trainer"?
More Than a Trainer
From 2005 to 2007, Pasternak worked at Canada's Department of National Defense, more precisely at the Defence and Civil Institute for Environmental Medicine (DCIEM).
The DCIEM studies the cognitive and psychological response of humans to drugs and other stimuli to create better soldiers. Some of the objectives of the DCIEM are:
Human systems integration
Human performance in stressful environments
Simulation and modeling of the human in complex military systems
Human issues in command and control
Team performance and collaborative behavior
Psychology of malicious intent
Social and cultural factors influencing behavior
In the following video, Pasternak explains how he studied the effects of powerful drugs on soldiers while he was working for the Canadian government.
Pasternak said:
"Working for the military, I wasn't governed by the same laws that the typical person was, so I could look at the impact of certain drugs that are not everyday things."
It is precisely in those covert military programs that operate outside of the law that MKULTRA-style experiments take place.
Coincidentally enough, it is this branch of the Canadian military that infamously issued grants to Dr. Ewan Cameron during the 1950s and 1960s to conduct research on … MKULTRA.
According to the Canadian government, approximately 80 patients at the Allan Memorial Institute underwent depatterning. The treatment involved putting patients into a prolonged period of sleep for several days through the administration of barbiturates (drugs that depress the central nervous system) and LSD. This was followed by massive doses of electroshock therapy over the course of several weeks, ultimately reducing patients to a childlike state.
– The McGill Tribune, Declassified: Mind Control at McGill
This sounds like the kind of "treatment" underwent by Ye when he was forcibly hospitalized. The ordeal left him with severe memory loss and changed him forever. Many other celebrities who are bizarrely "hospitalized" or sent to "rehab" undergo similar reprogramming.
In Conclusion
By posting a simple text message, Ye revealed an important fact about Hollywood: Several celebrities are attached to handlers who act as a liaison between them and the occult elite that owns Hollywood. These handlers are deeply embedded into the lives of these celebrities and exert great power over them. If need be, these handlers can "punish" these celebrities in the cruelest ways possible.
In past articles, we've seen examples of such individuals. For instance, after the bizarre death of Whitney Houston, the shady Hollywood handler Raffles Van Exel was identified as a powerful (and destructive) influence over her life (he actually admitted to removing evidence from her hotel room after she was found dead). 
Sam Lutfi, another "insider" who lurks around numerous celebrities, was deeply involved in the personal lives of Amanda Bynes and Britney Spears right when they descended into MK-fueled breakdowns. He was also said to be a controlling figure who did not hesitate to resort to threats when these celebrities disobeyed.
Harley Pasternak appears to be playing a similar role to many other celebrities. His threat of getting Ye internalized and "drugged out of his mind" is a clear indication that his role goes way beyond fitness. The fact that he even mentioned his children hints at the immense control he has over Ye's personal life and the cruelty he is capable of.
I guess this is what happens when your "personal trainer" has a background in psychological warfare and the study of powerful drugs on soldiers. Because, in a way, these celebrities are nothing more than soldiers … on the battlefield of cultural warfare.