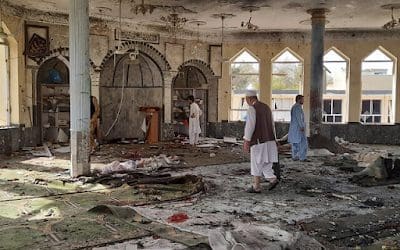 KUNDUZ — An apparent bomb attack on worshippers at a Shiite mosque in the Afghan city of Kunduz killed at least 50 people Friday, in the bloodiest assault since US forces left the country.
Scores more victims from the minority community were wounded in the blast, which has not been claimed but appears designed to further destabilize Afghanistan in the wake of the Taliban takeover.
A medical source at the Kunduz Provincial Hospital said that 35 dead and more than 50 wounded had been taken there, while a worker at a Doctors Without Borders hospital reported 15 dead and scores more wounded.
Taliban spokesman Zabihullah Mujahid had earlier said an unknown number of people had been killed and injured when "an explosion took place in a mosque of our Shiite compatriots" in Kunduz.
There was no immediate claim of responsibility for the attack, but the Islamic State group, arch-rival of the Taliban, has claimed similar recent atrocities.
A Taliban official later said the bombing was a suicide attack.
Residents of Kunduz, the capital of a province of the same name, told AFP the blast hit a Shiite mosque during Friday prayers, the most important of the week for Muslims. READ MORE
Dozens killed in blast targeting Shiite Afghan mosque during Friday prayers  https://amos37.com/dozens-killed-in-blast-targeting-shiite-afghan-mosque-during-friday-prayers/