Algemeiner: Turkey and Israel can work together to carry Israeli natural gas to Europe and the two countries will discuss energy cooperation during talks next month, Turkish President Tayyip Erdogan was quoted as saying on Friday.
The two countries expelled their ambassadors in 2018 after a bitter falling-out. Ties have remained tense since with Ankara condemning Israel's policy toward Palestinians, while Israel has called on Turkey to drop support for the militant Palestinian group Hamas which rules Gaza.
However, Turkey has been working to repair its strained ties with regional powers as part of a charm offensive launched in 2020. In an apparent easing after years of animosity, Erdogan said on Thursday that Israeli President Isaac Herzog would visit Turkey in mid-March.
"We can use Israeli natural gas in our country, and beyond using it, we can also engage in a joint effort on its passage to Europe," Erdogan told reporters on a return flight from Ukraine. Read More …
Opinion: I don't know how he does it. Recep Erdogan openly tried to break the Israeli blockade that attempted to stop missiles from Hamas' hands, openly embraces Hamas chief Ismail Haniyah on the world stage, blocks the EastMed pipeline that would benefit Israel and Europe, is now being the consummate diplomat while attempting to grab Israel's energy on its way tp Europe.
And he will most likely will get away with it.
In the future Gog Magog invasion of Israel, Turkey has a prominent role as it joins up with a Russian prince (Gog) and Iran (Persia) and at least 4 North African nations in a 4 sided invasion: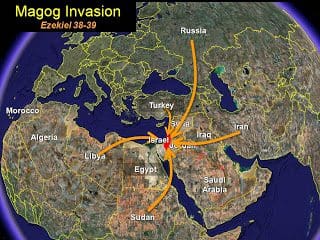 Persia is modern day Iran.
Cush (eldest son of Noah's son Ham) is the area of Sudan, Ethiopia, Somalia
Put (third son of Ham) is the area of Libya, possibly Tunisia and Algeria
Gomer, Beth Togarmah, Meshech, Tubal are ancient names for Turkey
Many nations with you: possibly additional North African Islamic allies
The motive for that war is found in Ezekiel 38:13 NIV:
"Sheba and Dedan and the merchants of Tarshish and all her villages will say to you, "Have you come to plunder? Have you gathered your hordes to loot, to carry off silver and gold, to take away livestock and goods and to seize much plunder?"'
Sheba and Dedan are cities in Saudi Arabia
Merchants of Tarshish represents Spaniards who sailed from Spain to bring back tin (Britain)
The lion is the symbol for Britain – young lions may then represent America and colonies. (All three nations are depicted as powerless)
Israel will be living in a false peace without bars and gates (Ezekiel 38:8 NIV) before this invasion, and it will appear to the world that certain annihilation of the Jewish state is at hand, but God has other plans …
Ezekiel 38:19 NIV: "In my zeal and fiery wrath I declare that at that time there shall be a great earthquake in the land of Israel."
In confusion, the invading armies will fight each other …
Ezek. 38:21-23 NIV " I will summon a sword against Gog on all my mountains, declares the Sovereign Lord. Every man's sword will be against his brother. 22 I will execute judgment on him with plague and bloodshed; I will pour down torrents of rain, hailstones and burning sulfur on him and on his troops and on the many nations with him."
They will fall on the mountains of Israel …
Ezekiel 39:4 NIV "On the mountains of Israel you will fall, you and all your troops and the nations with you. I will give you as food to all kinds of carrion birds and to the wild animals.
And here is the clincher …
Ezekiel 39:7 NIV "I will make known my holy name among my people Israel. I will no longer let my holy name be profaned, and the nations will know that I the Lord am the Holy One in Israel."
The Third Regathering of God's people is in Belief in the Son
Zechariah 12:10
With an outpouring of the Holy Spirit to lead them to repentance, Jesus brings the Jewish remnant of both the leaders and commoners to salvation:
"And I will pour on the house of David and on the inhabitants of Jerusalem the Spirit of grace and supplication; then they will look on Me whom they pierced. Yes, they will mourn for Him as one mourns for his only son and grieve for Him as one grieves for a firstborn."
Romans 11:26-27
No Jew present will be excluded:
"And all Israel will be saved. As it is written:
"The Deliverer will come out of Zion, And He will turn away ungodliness from Jacob;
For this is My covenant with them, When I take away their sins."
Isaiah 63:1-3
Jesus arrives in Edom to eliminate the enemy of Jacob. Their blood stains His robe:
"Who is this who comes from Edom, With dyed garments from Bozrah,
This One who is glorious in His apparel, Traveling in the greatness of His strength?—
"I who speak in righteousness, mighty to save." 2 Why is Your apparel red, And Your garments like one who treads in the winepress? 3 "I have trodden the winepress alone, And from the peoples no one was with Me.
For I have trodden them in My anger, And trampled them in My fury;
Their blood is sprinkled upon My garments, And I have stained all My robes."
The Triumphant Return of Jesus Christ
"Now I saw heaven opened, and behold, a white horse. And He who sat on him was called Faithful and True, and in righteousness He judges and makes war. His eyes were like a flame of fire, and on His head were many crowns. He had a name written that no one knew except Himself. He was clothed with a robe dipped in blood, and His name is called The Word of God. And the armies in heaven, clothed in fine linen, white and clean, followed Him on white horses. Now out of His mouth goes a sharp sword, that with it He should strike the nations. And He Himself will rule them with a rod of iron. He Himself treads the winepress of the fierceness and wrath of Almighty God. And He has on His robe and on His thigh a name written: And He has on His robe and on His thigh a name written:
King of Kings and Lord of Lords
The third regathering places Jesus' people with Him in Jerusalem:
"Thus says the Lord of hosts: 'Behold, I will save My people from the land of the east And from the land of the west; I will bring them back, And they shall dwell in the midst of Jerusalem. They shall be My people And I will be their God, In truth and righteousness."
The Millennial Reign of Jesus Christ on earth begins.
See our paper :The Three Regatherings of God's People HERE
Erdogan Says Turkey, Israel Can Jointly Bring Gas to Europe  https://amos37.com/erdogan-says-turkey-israel-can-jointly-bring-gas-to-europe/