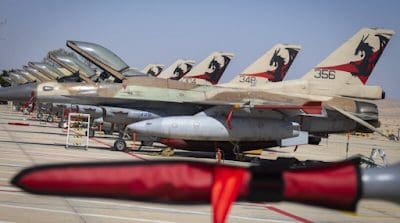 Cynical indifference best describes the general response to the disclosure on Tuesday, Oct. 26, that the Israeli Air Force had begun training for a possible airstrike on Iran to take place within a year or two. (See DEBKAfile report of Oct/ 21 on the massive acquisitions needed for the operation). Also announced was that the military command had submitted to the government yet another new plan of action for the mission.
By now, after a decade of dire warnings on world stages, Israelis are becoming weary of the warnings on different world stages that a nuclear-armed Iran was imminent unless their military, preferably with US support, resorted to direct preventive action.
Mixed leaks and disclosures – some from the military spokesman – have not dispelled popular disbelief. Word of "new operational plans" and special mission training falls periodically on cynical ears, although they are embellished with fresh "detail," and a hefty $1.5 bn was budgeted to prepare for the mission.

The IDF spokesman goofed badly by his "disclosure" on Monday of an incident "in the last couple of years," in which Iranian forces in Syria had tried to shoot down an Israel fighter jet with an air defense missile, whereupon the IAF was said to have smashed the Iranian battery. A few hours later, the IDF denied this improbable tale. Some responsible officer in the high command had evidently decided to dispel any impression that Tehran may have entertained that Israel and the IDF were eager to start an aerial war with Iran.
Despite the claims that Iran is "galloping" towards a nuclear weapon, more and more people have stopped believing that an Iranian nuke is ready and waiting to drop on them tomorrow or the day after. A calming voice also came from recently retired Mossad Director Yossi Cohen, who said last week: "I think that Iran, to this day, is not even close to acquiring a nuclear weapon. That is due to longstanding efforts by some forces in the world," he said, broadly hinting at the string of explosions and fires that last year hit Iran's nuclear sites, and allegedly engineered by Israel (and therefore himself.).

At the same time, the ex-Mossad chief said, "If Iran develops a nuclear weapon, Israel must be able to stop it on its own." He thus poured cold water on hopes of international support from any quarter. This advice certainly applied to this year's Blue Flag exercise (see photo), that had the largest turnout and drilled the most advanced weaponry of its forerunners. Taking part were the air forces of eight nations – three, the UK, UAE and India for the first time, along with the US, France, Italy and Germany. That this was a coalition in the making for dealing with Iran was suggested though not articulated.
Many Israelis are beginning to believe, and making their voices heard in social media, that IDF plans to attack Iran are partly aimed at boosting its budget and more hot air than real. This may be because they foresee US President Joe Biden stopping it from happening. Too many experts warn that Israel can no longer manage the mission on its own, given the scale of Iran's nuclear sites and extent of their interment in fortified underground bunkers. The verbosity of Israel's leaders, political and military, on the subject – often muddled rather than representing a clear-cut policy- is by and large undermining their own credibility rather than gathering popular support.
Fading popular credibility in Israel for potential air strike to abort a nuclear Iran  https://amos37.com/fading-popular-credibility-in-israel-for-potential-air-strike-to-abort-a-nuclear-iran/