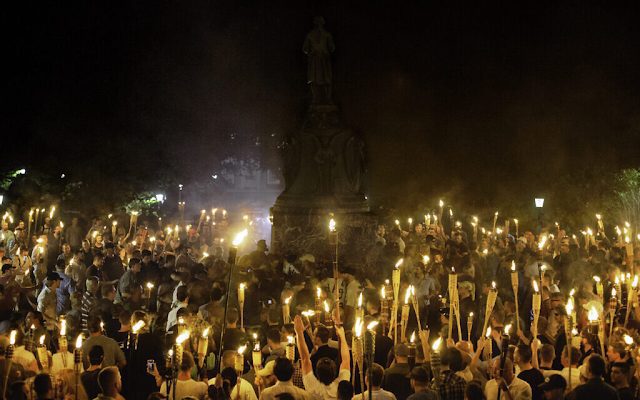 CHARLOTTESVILLE, Virginia (JTA) — Days before a neo-Nazi drove his car into a crowd of protesters here at the site of the deadly 2017 "Unite the Right" rally, he texted his mother.
Samantha Bloom was worried that her son would run into trouble in Charlottesville, where he was headed in his gray 2010 Dodge Charger to join a rally billed as a response to the proposed removal of a local statue of Robert E. Lee. "Be careful," Bloom texted her son, who was then 20.
"We're not the one [sic] who need to be careful," James Fields Jr. texted back. He attached a photo of Adolf Hitler.
The text exchanges are among the countless pieces of evidence entered into a civil trial that is unfolding here against Fields and 23 other people and groups accused of orchestrating the rally, which left one person dead and seared images of hate — and phrases such as the marchers' chant "Jews will not replace us" — into the national consciousness.
For those who are watching closely, the trial has generated not just insights about the event that US President Joe Biden cited as a turning point in his decision to run for president but also a potent window into the thinking of some of America's most avowed ambassadors of hate.
The lead counsel for the plaintiffs, Roberta Kaplan, who is Jewish, and the nonprofit she leads, Integrity First for America, launched the civil lawsuit — known as Sines v. Kessler — on behalf of nine people who were injured or traumatized at the event. READ MORE