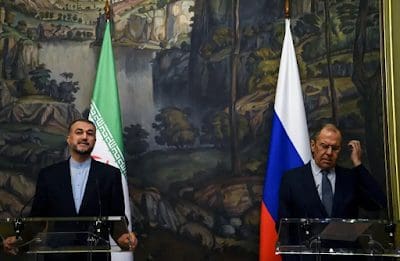 Iran's foreign minister appears to be on a roll. Hossein Amirabdollahian met with his Russian counterpart Sergei Lavrov on Wednesday in Moscow. Their meeting focused on renewed talks in Vienna that are related to the Iran deal. But Amirabdollahian is not just talking with the Russians, he also traveled to Beirut, where he is expected to meet leading Lebanese officials and boost support for Iran's allies in Hezbollah.
More is sure to come. A strategic document may be signed with Moscow, Al-Mayadeen reports. Iran and Russia have similar stances on the issues in the region, the Iranian diplomat says. "In a related context, Al Mayadeen's correspondent revealed that the Iranian minister announced his readiness to visit Azerbaijan's capital, Baku, to enhance ties between the two countries," the report says.
Amirabdollahian also has said his country does not accept "geopolitical changes" in the Caucasus. Tensions between Iran and Azerbaijan have been rising. "We certainly will not tolerate geopolitical change and map change in the Caucasus, and we have serious concerns about the presence of terrorists and Zionists in this region," he said.
This relates to Iran's claims that Israel works closely with Baku. Iran recently hosted Armenia's foreign minister in Tehran and it appears that the Islamic Republic has invited the Azerbaijan foreign minister as well.
Iran appears to want to increase transit and trade with Armenia. Kheirollah Khademi, Iran's deputy transport minister and chief executive of a road-building company, arrived in the Armenian capital of Yerevan on Monday, according to reports.
Iran is deeply concerned by what it sees as Turkish meddling in the Caucasus, and also the chance that Iran could be cut off from Russia. Iran's Fars News says that Turkey wants to redraw the map on the border.
"After its defeats and failures in the Libyan and Syrian cases, Turkey has a strong desire to at least achieve a minimal achievement in the Caucasus region," it said. "This achievement, which is the land connection with the Republic of Azerbaijan, can implement Erdogan's plans to establish a land connection with the communication corridors with China without passing through Iran, which is an economic advantage.
READ MORE
Iran's full-court diplomatic press covers Lebanon, Oman, Russia and Turkey - analysis  https://amos37.com/irans-full-court-diplomatic-press-covers-lebanon-oman-russia-and-turkey-analysis/