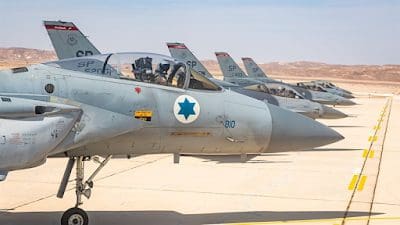 (JNS) The Blue Flag 2021 air force exercise and the gathering in Israel of air force commanders from several countries, including the United Arab Emirates, represents an impressive milestone.
This international cooperation has now been extended to include joint naval operations with United States Central Command (CENTCOM). The Israeli Navy and the U.S. Navy's Fifth Fleet held a joint exercise for the first time in September in the Red Sea, marking the transition of cooperation to CENTCOM.
Moreover, this was followed by a joint special forces exercise with the U.S. Marine Corps near Eilat and the extraordinary step of a joint naval exercise with the Israeli Navy's Red Sea flotilla, Emirati and Bahraini ships, and the U.S. Fifth Fleet.
In September, CENTCOM officially took control of the military's relationship with Israel, taking over from European Command (EUCOM).
In addition to improving military capabilities, Israel's military diplomacy also has strategic value in consolidating the country's role as a member of good standing in what might be termed the Like-Minded Defense Community. This community enhances Israel's stature among its regional partners, undermines efforts to isolate it and sends a message to hostile forces.
Blue Flag 2021
The fifth biannual Blue Flag multinational air force exercise, held from Oct. 17-28 at the Uvda Air Force Base in the Negev, was the largest and most significant since the exercise series began in 2013. The exercise is modeled after the U.S. Air Force's largest combat training exercise, Red Flag, held at Nellis Air Force Base in Nevada.
Officially, eight air forces took part in Blue Flag: the Israeli Air Force, the U.S. Air Force, Britain's Royal Air Force (for the first time), and the Indian, German, French, Italian and Greek air forces. In addition, judging by a leaked photo from the exercise, it appears that the Jordanian Air Force participated as well—and probably not for the first time. Overall, 37 guest planes and some 1,500 troops arrived in Israel for the exercise.
The drills focused on new threats, such as cooperation against a virtual enemy state, "Dragonland," the air-defense profile of which resembled Syria. The exercise also included defense against intruding enemy aircraft and strikes against the enemy's rear areas, defended by surface-to-air missile batteries. READ MORE
Israel's widening array of joint exercises  https://amos37.com/israels-widening-array-of-joint-exercises/