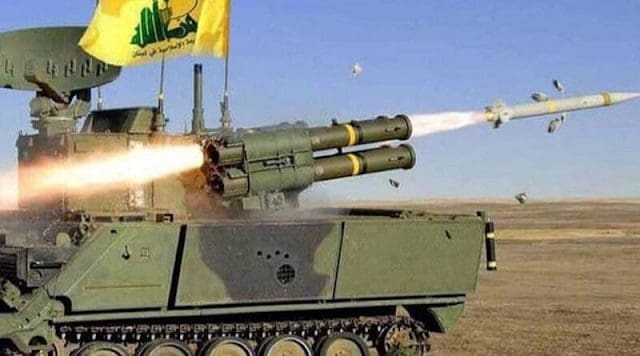 Israel's military and civilian authorities launched a large-scale war drill on Sunday, Oct. 31 to prepare for a pro-Iranian precision rocket blitz from Lebanon targeting civilians and infrastructure. The drill ending on Thursday covers multiple threats requiring evacuations of complete frontline communities, dispersing local Arab disturbances in mixed cities, cyber war and disruptions of basic amenities – or even chemical warfare.
The Air Force is meanwhile practicing operations for hitting 3,000 Hizballah targets across Lebanon in a single day in response to direct Iranian or Iran-supported missile attacks by Hizballah and imported Iraqi-Shiite militias. Estimates cite a potential 4,000 rockets a day, some of them ballistic and outfitted with high precision kits. Intelligence sources report that the 30,000-strong Iraqi Kata'ib Hezbollah has been assigned to send troops in Lebanon and they are in advanced training.
The missile strike Israeli conducted on Saturday morning on Al-Dimas, a key point west of Damascus on the Syrian-Lebanon highway, was a typical pre-emptive measure to disrupt the passage of an Iran-Syrian arms convoy and Iraqi Shiite troops across the border into Lebanon.
On Wednesday, sirens will be heard to test a new alert system of 15 seconds instead of 30-second rocket warnings in sensitive northern districts. Hizballah is expected to launch its offensive with a drive to capture a number of Israeli locations along the Lebanese border. Since millions of civilians lack shelters able to withstand intensive rocket attacks, the drill will also focus on large-scale evacuations of entire communities within a 5-km radius from the Lebanese border to provisional centers away from the front for the duration of the crisis.
The IDF is therefore practicing rapid evacuations to save lives and prevent prisoners and hostages from falling into enemy hands. This will be a complex operation in more ways than one with hundreds of vehicles moving fast under fire. The drill will draw on lessons from the May Operation Guardian of the Walls against Hamas terrorists in the Gaza Strip. A plan then to evacuate civilian communities in the line of fire failed to take off since the public bus service is largely manned by Israeli Arab drivers who refused to take the wheel at the time
Drawing on another lesson from the Gaza operation, the police are an active partner in the war drill, making ready to quell a repeat of the local disturbances staged by Arab protesters in mixed towns and their possible resort to live arms fire. The police have set up a helicopter squadron for moving forces at speed between trouble spots.
No official estimates have ever been released on the potential for casualties in this scenario being simulated this week, but hundreds of dead are not being ruled out. The hospitals co-opted to the drill will be on standby for a large influx of civilian and military casualties.
The drill led by the IDF Home Front Command and National Emergency Authority is also preparing for outages of power and water and breakdowns of food supplies as a result of rocket hits or cyberattacks disrupting traffic and hacking their systems. They are not ruling out the danger of chemical warfare like that practiced by Iran's ally, Bashar Assad against the Syrian population which rose up against his rule. Mention has been made of a Hizballah plan to disarm Israeli civilians and troops by spreading a form of tranquillizer across large areas.
Launching the drill on Sunday, Home Front Command Chief of Staff Brig.-Gen. Itzik Bar said: "This exercise is also a great opportunity for all government ministries to understand the implications, starting with disruptions in the energy sector – we are talking about 24-hour power outages across the country, 72 hours in localized communities – and other such aspects in terms of continuous functioning."
According to Bar, some of the issues of concern are "the precision-guided munitions and the effect that they will have on our ability to function…The second is the rate of fire and Hizballah's ability to conduct truly massive rocket barrages at specific geographic areas — I'll use the phrase 'demolishing the front line' — directed fire aimed at the communities near the border."
Massive Israel drills launched to simulate major war offensive by Iran and proxies  https://amos37.com/massive-israel-drills-launched-to-simulate-major-war-offensive-by-iran-and-proxies/