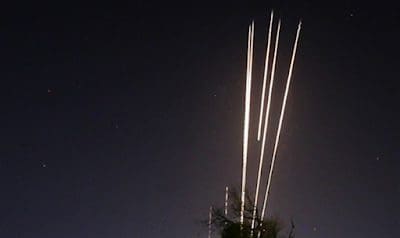 Ala Aladin Jabarin, a senior official within the United Arab List and sixth on the party's list, has come under fire for a post and video he uploaded to his Facebook page three years ago, in which he expressed his support for a "military solution" to Israel's conflict with the Palestinians. The post was uncovered by the "Kol Hayehudi" website.
The video praised terrorist rocket fire from Gaza into Israel, and stated that, "We have no solution other than victory or death as martyrs." It was posted on June 9, 2018, just ten days after Gaza-based terrorist organizations fired around 200 rockets into Israel.
"Dear Shahid [martyr] … we will break our fast in Jerusalem … the capital of Palestine … We have no other solution than either victory or death as martyrs," read the captions to the video, which shows terrorists carrying rockets to their launching sites and then firing them into the Israeli communities bordering Gaza.
Earlier today, legal advisers to the Ad Kan organization and the Choose Life forum of bereaved families submitted a formal complaint to Israel Police, against the '48 Aid NGO (the Islamic Organization for Orphans and the Needy), accusing it of money-laundering, funding terrorist operations, and other terrorism-related charges.