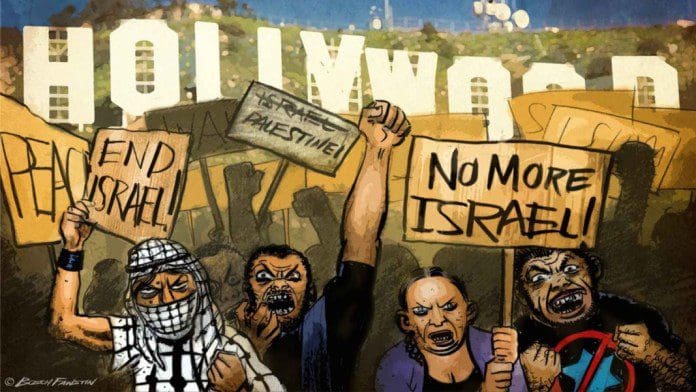 JNS: With a general rise in anti-Semitic violence last year, instances of anti-Semitism have also been on the rise in work and education settings, something the U.S. Equal Employment Opportunity Commission (EEOC) is closely monitoring according to senior commission members who were guests on Monday of a virtual panel discussion held by the Brandeis Center.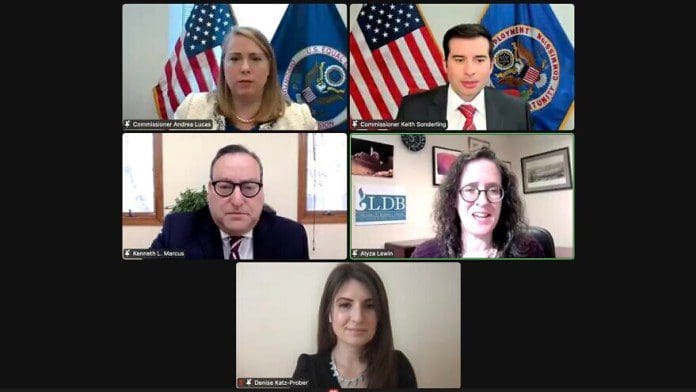 EEOC commissioners Andrea Lucas and Keith Sonderling gave a presentation that included statistics on workplace and educational anti-Semitism, as well as the laws that protect workers against acts of anti-Semitism and harassment about their Judaism.
Lucas highlighted some of the statistics, including that one out of four American Jews reports having been a victim of anti-Semitism, according to a study by the American Jewish Committee (AJC), with 39 percent responding that they had to change their behavior to limit activities and conceal their Jewishness.
Another statistic Lucas spoke about was that according to a Brandeis Center study, 65 percent of Jewish students say that they have felt unsafe and 50 percent have hidden their Jewish identity on campus, with one in three Jewish students reporting that they've personally experienced anti-Semitism. Read More …
"This is what the Lord Almighty says: "In those days ten people from all languages and nations will take firm hold of one Jew by the hem of his robe and say, 'Let us go with you, because we have heard that God is with you." Zechariah 8:23
With just 80 years between this generation and the Holocaust, and with anti-Semitism growing exponentially in the most Christian nation on earth, it would be easy to dismiss this prophecy as impossible.
Zechariah lived just after the 70 year captivity of the Jews in Babylon. He was a contemporary of the prophet Haggai who shared concerns over the necessity of rebuilding the temple that was destroyed in 586 BC.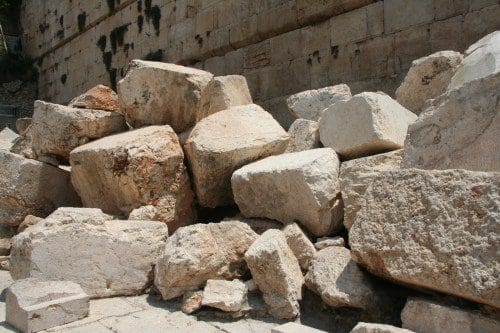 It was a tumultuous time for the Jews as Jerusalem lay in rubble, and the holy temple in a pile of boulders.
God the Father is presented in Zechariah 8:1-23 as a God longing for a covenant relationship with His people. He promises that He will be a God of grace, love and forgiveness:
"I am zealous for Zion with great zeal;
With great fervor I am zealous for her."
In fact, both chapters of Zechariah 7 and 8 are a precursor of future blessing and prosperity in the Millennium Age, when the Jews return to the land in belief in the Son of God.
Let's back up.
From our paper "The Three Regatherings of God's People"
The First Regathering is in Unbelief
Did you ever wonder why so many of God's chosen are secular? Because it was prophesied to be so …
Ezekiel 20:33-38 prophecies God's people will come back to the land in unbelief
Ezekiel 22:18-22 prophesies the regathering is to be in Jerusalem to purge out unrighteousness from Jacob in preparation to meet their God after the tribulation:
The Second Regathering is in Belief of God the Father
"…then they shall know that I am the Lord their God, who sent them into captivity among the nations, but also brought them back to their land, and left none of them captive any longer." Ezekiel 39:28
The scene is the end of the great war of Gog and Magog. A Russian alliance (Ezekiel 38:1-6) forms after Israel defeats her neighbors in the Psalm 83 war, fulfilling Ezekiel 38:8.
Israel will have been abandoned by the nations, fulfilling Ezekiel 38:13 as the Russian alliance made up of Persia Iran, Gomer Turkey, and at least 4 North African nations (Cush Ethiopia, Somalia, Sudan and Put Libya) launch a 4-sided attack on the Jewish state.
With no nation coming to Israel's side, the world will be convinced that the Jewish state will not survive. Ezekiel 38:18-21 will change everything:
God intervenes in the same way He did in Judges 7 and 2 Chronicles 20. As the Jews regather a second time, they will know that only God the Father could have saved them from certain annihilation, as they return to Covenant relationship.
The Third Regathering is in Belief in the Son
Zechariah 12:10
With an outpouring of the Holy Spirit to lead them to repentance, Jesus brings the Jewish remnant of both the leaders and commoners to salvation:
"And I will pour on the house of David and on the inhabitants of Jerusalem the Spirit of grace and supplication; then they will look on Me whom they pierced. Yes, they will mourn for Him as one mourns for his only son and grieve for Him as one grieves for a firstborn."
Romans 11:26-27
No Jew present will be excluded
"And all Israel will be saved. As it is written:
"The Deliverer will come out of Zion, And He will turn away ungodliness from Jacob;
For this is My covenant with them, When I take away their sins."
To fully grasp God's plan of salvation it is important to understand how two groups, the Church and Israel, are dealt with. The Church is taken up to the New Jerusalem in the blink of an eye (1 Thess 4:16-17; 1 Cor. 15:51-52).
The saved Jews will be in Israel on earth, living out the blessing Isaac gave to Jacob, Genesis 27:28-29:
Therefore may God give you
Of the dew of heaven,
Of the fatness of the earth,
And plenty of grain and wine.
Let peoples serve you,
And nations bow down to you.
Be master over your brethren,
And let your mother's sons bow down to you.
Cursed be everyone who curses you,
And blessed be those who bless you!
See our paper: Three Regatherings of God's People HERE
See our paper "Two Trains: Israel and the Church in Prophecy" HERE
Hits: 0
Officials raise alarm over 'horrifying statistics' on anti-Semitism in workplace/campuses  https://amos37.com/officials-raise-alarm-over-horrifying-statistics-on-anti-semitism-in-workplace-campuses/