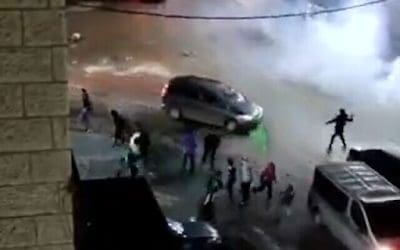 Clashes broke out between Palestinians and Israeli security forces in Jerusalem on Sunday night after hundreds marched in Shuafat Refugee Camp to honor Hamas terrorist Fadi Abu Shkhaydam, who killed an Israeli and wounded four others in Jerusalem's Old City earlier in the day.
In videos circulating on social media, dozens of Palestinians can be seen hurling rocks as tear gas — apparently fired by police — fills the air around them. Israeli police had raided the neighborhood following the Sunday terror attack, reportedly arresting three relatives of Abu Shkhaydam's family.
Paramedics also reported two Molotov cocktail attacks in the Jerusalem area, although it was not immediately clear who the perpetrators were.
One explosive bottle was hurled at a 30-year-old man near the Old City, who suffered light burns, according to Magen David Adom emergency responders.
The second Molotov cocktail was hurled at a bus near the Hizma checkpoint between Jerusalem and the West Bank. The bus driver, 25, was treated for shock; no passengers were hurt, MDA medics said. READ MORE
Palestinians clash with police in East J'lem after march supporting Hamas terrorist  https://amos37.com/palestinians-clash-with-police-in-east-jlem-after-march-supporting-hamas-terrorist/