Assessment: France hosts the largest Jewish population in Europe estimated to number 480,000–550,000. French polling company IFOP estimated in 2016 that French Muslims number between 3 and 4 million …
An extensive survey conducted by the American Jewish Committee about the experiences of French Jews has found that nearly three quarters of the community has experienced antisemitic acts.
The survey studied France's Jewish, Muslim and general populations, revealing the "extent of unabated antisemitism threatening the country's Jewish population," which is the largest in Europe.
The study found that 85 percent of French Jews feel that antisemitism is a widespread problem in France, with 73 percent saying that it has been increasing in the last decade.
"then they shall know that I am the Lord their God, who sent them into captivity among the nations, but also brought them back to their land, and left none of them captive any longer." Ezekiel 39:28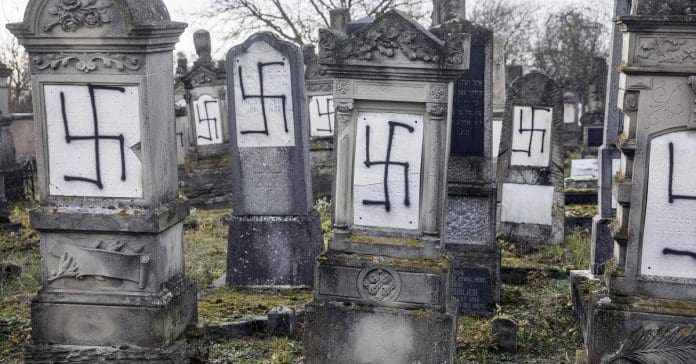 (Jewish Graves Desecrated in Historic French Cemetery)
But only 64 percent of France's general population thinks that antisemitism is widespread and increasing.
Nearly three quarters (74 percent) of French Jews said they had been victims of antisemitic acts at some point. The attacks include derogatory remarks (68 percent), threats on social media (28 percent), verbal threats (24 percent), and physical violence (20 percent).
Nearly 40 percent said that they felt threatened for being Jewish, with 35 percent saying that they avoid wearing clothes or dress that is identifiably Jewish. Over 40 percent also avoided placing mezuzahs or other Jewish symbols outside their homes.
Read More @ Arutz Sheva HERE
Hits: 0
Report: 3/4 of French Jews have experienced antisemitic acts  https://amos37.com/report-3-4-of-french-jews-have-experienced-antisemitic-acts/