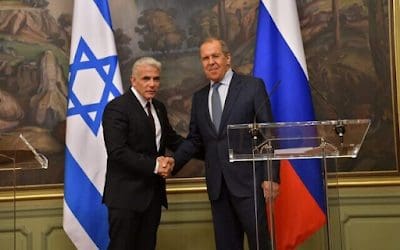 Russia has asked Israel to push the United States to agree to hold trilateral talks on the ongoing conflict in Syria, the Walla news site reported last week.
According to the report, Russian Foreign Minister Sergei Lavrov raised the topic during a meeting earlier this month in Moscow with his Israeli counterpart Yair Lapid.
The report follows recent reports of tensions in the Israel-Russia relationship over policies toward Syria.
Israel's freedom of action in Syria was seriously curtailed after Russia provided advanced S-300 air defense batteries to Syrian President Bashar Assad's forces following a 2018 incident in which the Syrian army, aiming at Israeli jets, knocked a Russian plane out of the sky instead, killing all 15 people on board.
Israel has carried out hundreds of airstrikes inside Syria in the course of the country's civil war, targeting what it says are suspected arms shipments believed to be bound for Lebanon's Iran-backed Hezbollah terror group, which is fighting alongside Syrian government forces. Israel rarely acknowledges or discusses such operations.
Russia has waged a military campaign in Syria since 2015, helping Assad's government reclaim control over most of the country after a devastating civil war. Moscow also has helped modernize Syria's military arsenals and train its personnel.
After the two met in Moscow earlier this month, Lavrov said that he and Lapid had discussed the situation in Syria.
In response to a question from a reporter about Israeli airstrikes in Syria, Lavrov said that Russia opposes Syria "becoming an arena of confrontations with third parties. This is why we don't want the Syrian territory to be used against Israel or against any other party," he added, noting ongoing coordination between Jerusalem and Moscow on activity in the area.
Prime Minister Naftali Bennett is expected to visit Moscow in the coming weeks to meet for the first time with Russian President Vladimir Putin.
Bennett left Israel on Saturday evening to fly to New York where he is set to address the United Nations General Assembly on Monday.
Russia said asking Israel to push US on holding trilateral Syria talks  https://amos37.com/russia-said-asking-israel-to-push-us-on-holding-trilateral-syria-talks/