Can you spot the snowshoe hare in the above photo?
When we humans face intense heat, severe cold, or too little water, we can retreat inside the comforts of our homes. But for animals, that isn't an option. With no place to hide and no stockpile of extra food and water, what can they do to survive bad weather or drought?
For some, it's simply a matter of shutting down and waiting for things to improve.
African Lungfish
Dealing with drought is no problem for the African lungfish, which has lungs as well as gills. This fish can live for up to 4 years in dried-up streambeds. It keeps from drying out by wrapping itself in a covering of mucus. The mucus dries up to form a thin, papery "cocoon" that traps moisture. Openings for the nostrils allow this fish to breathe air like land animals. When the rains come, it wriggles out of the protective wrapping.
Common Poorwill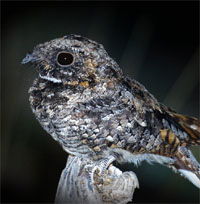 When you think of hibernation, you probably think of big, furry mammals like bears that curl up in dens and sleep through the cold months. But one kind of bird does something very similar. When the winter chill hits, the common poorwill hides in rock piles and takes a long rest of up to 85 days (12 weeks). That's a long nap! It's the only bird known to do this.
Brine Shrimp
You can even watch some "suspended" animals come back to life in your aquarium! The hard eggs (cysts) of brine shrimp are designed to survive for two years in lakebeds without water or oxygen—even in temperatures below freezing. Companies sell these hardy cysts in kits that you can hatch at home.
Epaulette Shark
This small shark (usually around 3 feet [1 m] long) likes to dine in the shallow pools on the coast, left by the shifting tides. The standing water in these temporary pools often has little oxygen, which the brain needs. To stay alive, the shark can increase the flow of blood that carries oxygen to the brain. At the same time, the shark can lower its brain activity to reduce the amount of oxygen it needs.
Fat-Tailed Lemur
Winter on the island of Madagascar, east of Africa, isn't necessarily cold, but it can be dry. That's why when winter comes, the fat-tailed lemur finds a comfy place, such as a cricket hollow. Then it takes a long snooze. The fat stored in its tail gives it plenty of water to live on until the rains return in the spring.