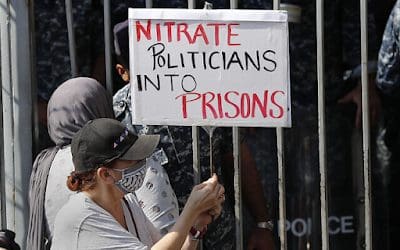 BEIRUT, Lebanon (AFP) — Tarek Bitar, the young and discreet judge investigating last year's devastating Beirut port explosion, is arguably the most exposed man in the country.
By daring to take on some of Lebanon's untouchable political barons, he has landed himself at the center of a battle of wills that is bringing the country to the brink once again.
To some of those seeking truth and justice after the deadly port blast, the 47-year-old is a white knight fighting a desperate and lonely battle against a corrupt and criminal elite.
For part of the establishment and its supporters, Bitar is politically biased and the biggest threat to the status quo since a wave of protests against the ruling class in 2019.
For the relatives of the 215 people who were killed when a huge consignment of haphazardly stored fertilizer exploded on August 4 last year, Bitar is the only hope.
"He is conscientious and bold at the same time. These are essential qualities for a judge," says Yousef Lahoud, one of the lawyers representing the victims' families.
His determination will be tested more than ever after a demonstration for his removal Thursday by supporters of the Shiite Muslim Amal and Hezbollah movements degenerated into deadly violence and scenes reminiscent of the 1975-1990 civil war.
The man handling the biggest case since former Lebanese prime minister Rafik Hariri's 2005 assassination is a little-known figure who never talks to the press or even appears in public.
The virulent hate campaign launched against him in recent days only has a couple of pictures of him available for social media trolls to share on social media or party muscle to torch in street protests. READ MORE
The 'incorruptible' judge at the heart of a battle bringing Lebanon to the brink  https://amos37.com/the-incorruptible-judge-at-the-heart-of-a-battle-bringing-lebanon-to-the-brink/