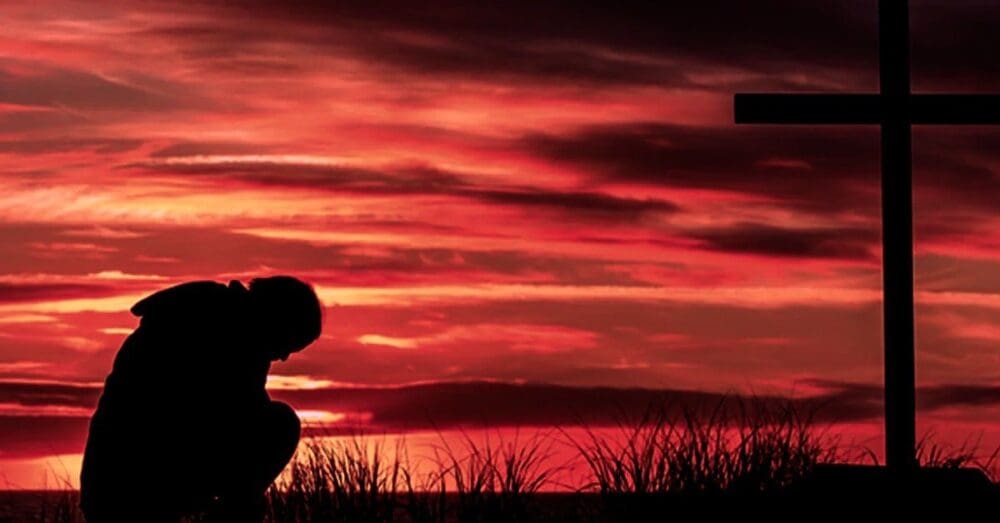 We live in a world that talks and sings a lot about love, especially when Valentine's Day comes around. However, all this talk and a plethora of love songs often leave its consumers unsatisfied, disappointed, and hurt. A case could be made that, like Israel of old, people have forsaken the fountain of living waters and hewn out for themselves cisterns that are broken and can hold no water (Jeremiah 2:13). Such will always be the case when we make an idol out of "love" and divorce it from the source from which true love flows. Therefore, it might be good to remind ourselves that substantive and enduring love is ultimately rooted in and continually flows from God himself, even from before creation.
The Overflowing Love of God in Eternity Past
Love by its very nature is not self-directed, though that is what much of the so-called love of today is, like a tick on a dog. It only takes; it does not give, which leads to hurt. But true love is oriented toward others. John tells us that "God is love" (1 John 4:8). Wayne Grudem states that "God's love means that God eternally gives of Himself to others."1
God eternally existed before the world in intra-trinitarian fellowship in which there is an overflowing of love and delight for each of the other members of the Godhead.
But did God only begin to love after he created? We would be mistaken to think so. God is not a solitary being but is gloriously triune. Michael Reeves says, "God is love because God is a Trinity."2 Jesus said to his Father, "You loved me before the foundation of the world" (John 17:24, emphasis mine). Before earth, stars, and planets were created, the Father loved his Son. Again, Michael Reeves comments concerning the Father's love for his Son: "He finds His very identity, His Fatherhood, in loving and giving out His life and being to the Son."3 John reveals that Jesus is "in the bosom of the Father" (John 1:18 NKJV), a place of close intimate relationship. The Son reciprocates this love. He said, "My food is to do the will of him who sent me and to accomplish his work" (John 4:34). Jesus' food—that which imparted satisfaction and brought his soul delight—was to love and serve his Father and do his will. This love between the Father and Son no doubt characterizes the relationship with the Holy Spirit as well. "This eternal love between the Father, the Son and the Holy Spirit makes heaven a world of love and joy because each person of the Trinity seeks to bring joy and happiness to the other two."4 So God eternally existed before the world in intra-trinitarian fellowship in which there is an overflowing of love and delight for each of the other members of the Godhead.
The Overflowing Love of God in Creation
When God created, this tri-unity of love now overflowed and was witnessed in the creation. When God made our first parents (Adam and Eve), he made them distinct from the rest of creation by making them in his own image (Genesis 1:26–27). As image-bearers, they too were created to enjoy and participate in loving God but also one another. God was not needy when he created Adam and Eve, unlike how pagan gods are often portrayed. The true, living God is not served by human hands "as though He needed anything, since he himself gives to all mankind life and breath and everything" (Acts 17:25, emphasis mine). God created out of the overflow and superabundance of his generous self-giving fullness. The Garden of Eden was a paradise of delight and blessing that bore witness to the bounty of God's goodness and love (Genesis 1:31).
As we know from Scripture, sin disrupted the loving fellowship and enjoyment experienced by our first parents with one another and with their Creator. Taking Satan's bait, they demonstrated that they loved something more than God: themselves. Their calling to image God's love was now marred by their sin. They became lovers of pleasures rather than lovers of God (2 Timothy 3:4). Now there was enmity toward God (Romans 8:7). And their love for one another was also marred. Their "one flesh" relationship was now a source of conflict (Genesis 3:16). Their firstborn son Cain murdered his brother Abel (Genesis 4:8; James 4:2). Only Genesis 3 can explain how we got from a perfect world, created by the overflowing love of God and mirrored in his image-bearers, to the world in which we find ourselves today, where there is but a dim reflection of God's original overflowing love at creation. But due to sin, this reflection of God's love has lost its divine luster. But, thanks be to God, this is not the end of the story.
The Overflowing Love of God in Salvation
It is in the context of a fallen world of sin and rebellion that we find an even greater display of God's overflowing love. We can only see this aspect of God's love "east of Eden." In eternity past, God purposed to manifest the glory of his grace and love in the salvation of sinners through his Son (Ephesians 1:3–6). John writes, "In this is love, not that we loved God but that he loved us and sent his Son to be the propitiation for our sins" (1 John 4:10). Paul writes to saints in Rome, "but God shows his love for us in that while we were still sinners, Christ died for us" (Romans 5:8) and God "did not spare his own Son but gave him up for us all" (Romans 5:8, 8:32). Herein is the wonder and glory of God's redeeming love, and it is two-fold. Those he loved were not those who loved him. In fact, they loved themselves and were his enemies (Romans 5:8, 10). Secondly, the Son whom the Father loved and delighted in from all eternity was sent to bear the wrath of God in the place of their guilt. (2 Corinthians 5:21)
It is in the context of a fallen world of sin and rebellion that we find an even greater display of God's overflowing love.
Those united to Christ by faith ought to stand in awe of the glory of this love of God. Jesus says, "As the Father has loved me, so I have loved you" (John 15:9, emphasis mine). Jesus prayed to his Father that his people would be one so that "the world may know that you sent me and loved them even as you have loved me" (John 17:22–23, emphasis mine). "God's love has been poured into our hearts through the Holy Spirit who has been given to us" (Romans 5:5). Meditate upon those verses. This trinitarian love enjoyed by the Father, Son, and Holy Spirit has overflowed to you in Christ. Little wonder John is lost in wonder and praise when he declared through the Spirit, "Behold what manner of love the Father has bestowed on us, that we should be called the children of God" (1 John 3:1 NKJV).
Loved with everlasting love, led by grace that love to know;
Gracious Spirit from above, Thou hast taught me it is so!
O this full and perfect peace! O this transport all divine!
In a love which cannot cease, I am His, and He is mine.
In a love which cannot cease, I am His, and He is mine.5
In the gospel, God's overflowing love is now restoring his image in his people. This in large part is witnessed in his work to enable them to fulfill the two great commandments, which are to love God and to love your neighbor as yourself (Matthew 22:37–40). These will be the fingerprints of grace upon all those who have been born of God. "Beloved, let us love one another, for love is of God; and everyone who loves is born of God and knows God. He who does not love does not know God, for God is love" (1 John 4:7, 8).
This perfect love of God is found in only one place. It is experienced through union with Christ (Romans 8:39). If you are not savingly united to Jesus Christ by faith, turn from your sin and run to him. He promises to receive all who come (John 6:37). I am just one beggar telling other beggars where to find bread.
Kevin Landis is native to the Cincinnati area, near the Creation Museum and Ark Encounter, and has been pastor of Bible Chapel of Delhi Hills for 42 years. He attended Cedarville College and graduated in 1976 with a B.A. in Bible and then earned an M.Div. from Grace Seminary in 1980. He is married to Jackie and has two children, Kara and Kyle, who is married to Amy.