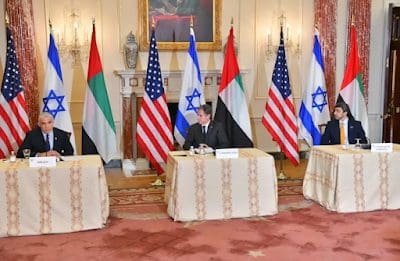 Israel and the US sounded more in sync on the Iranian threat this week at the trilateral meeting of Foreign Minister Yair Lapid, US Secretary of State Antony Blinken and UAE Foreign Minister Abdullah bin Zayed in Washington, than at any time since US President Joe Biden entered office nine months ago.
The relationship began with Jerusalem's position moving closer to Washington's, but now it is the Biden administration making moves in Israel's direction.
When Prime Minister Naftali Bennett and Lapid came into office in June, they decided to overturn former prime minister Benjamin Netanyahu's policy of refusing to engage with the Biden administration on its aim to return to the Iran nuclear deal. It didn't work when Netanyahu did that in 2015, so they figured they ought to try something else.
From very early on, part of that engagement was trying to get a sense of Washington's plan B. If negotiations don't put Iran "back in the box," as Blinken has put it, what does the US intend to do to ensure Iran does not attain a nuclear weapon with which to threaten Israel and the whole world?
More than four months have passed since Iran stepped away from the negotiations table in Vienna, saying that it would return, but not saying when, and the Islamic Republic has used that time to continue to advance its uranium enrichment and spin more centrifuges.
During this period, Israel has continued to ask the US what its alternative is to negotiations – while independently working on its own plans – and what the Americans' deadline is for Iran to return to talks. Those questions came up in Lapid's meetings with US National Security Advisor Jake Sullivan and Blinken and they discussed answers that Israelis had not heard before.
With the prospects of talks dimming, Israel still views – as it did during Netanyahu's tenure – heavy sanctions on Iran as the best way to pressure it to abandon its nuclear program, while keeping a credible military option on the table and undertaking covert operations against Iran's nuclear program.
The Americans still want to give negotiations a shot, but statements Blinken and US Special Envoy to Iran Rob Malley made on Wednesday showed they are coming close to the realization that a change of plans is needed.
While maintaining that diplomacy is still the best way to keep Iran from getting a nuclear weapon, Blinken said at a news conference with Lapid and bin Zayed that "what we are seeing – or more accurately, not seeing – from Tehran suggests that they're not" willing to take that route.
READ MORE
US, Israeli views on Iran nukes grow closer as patience wears thin - analysis  https://amos37.com/us-israeli-views-on-iran-nukes-grow-closer-as-patience-wears-thin-analysis/