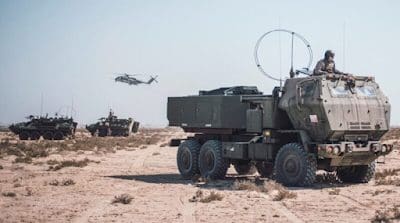 In a rare spat among two leading NATO allies. the US Marine Corps issued a statement denying having surrendered to British counterparts in a recent training exercise in California. The denial on Saturday, Nov.6 follows claims in British media since Tuesday that British Royal Marines commandos had "dominated" the US Marines during the Green Dagger exercise in the Mojave Desert Twentynine Palms training area and forced them to surrender, after most of their unit was "annihilated". It was further claimed that US troops asked for a "reset" halfway through the exercise after suffering extensive casualties.
The British forces said they had not only defeated the Americans, by successfully targeting their headquarters, using long-range artillery to destroy US vehicles and other targets, and launching a long-range commando raid, but vastly expanded the territory they controlled from less than 20% to more than 65% of the exercise area. This claim was first reported by the London Telegraph defense correspondent Dominic Nicholls.
The official Twitter account for 40 Commando Royal Marines also declared that British forces had emerged "victorious" at the end of the exercise. Taking part in the war game were also Netherlands, Canada and the United Arab Emirates.
While the dispute between US and UK armed forces is far from over, DEBKAfile's security sources take a look at the new tactics introduced for British special forces. Under the motto "Too Stubborn to Die," they are now being trained to "confidently operate in an environment jammed with enemy electronic warfare systems. The UK Ministry of Defense explained that the Green Dagger battle exercise "tested the deployment of the new Littoral Response Group (LRG) in a guerrilla war fighting against well-equipped US Marine Corps opponents. The LRG is one of two new Royal Navy task groups focused on commando forces that are able to respond to world events, with one to be based in Europe and another, LRG South in Oman " READ MORE
US Marines deny being bested by British commandos in California exercise  https://amos37.com/us-marines-deny-being-bested-by-british-commandos-in-california-exercise/