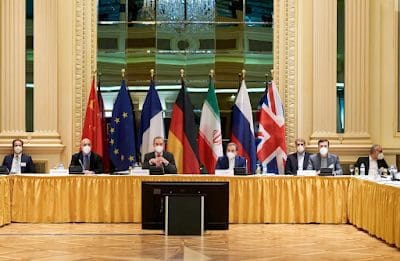 The UK Foreign Office said on Tuesday Britain and the United States agreed on the need for Iran to return to negotiations in Vienna on the Joint Comprehensive Plan of Action (JCPOA).
UK Foreign Secretary Liz Truss met US Secretary of State Antony Blinken during the UN General Assembly in New York and held discussions on Iran, Afghanistan and the trilateral security partnership between the US, Australia and the UK.
European Union foreign policy chief Josep Borrell told reporters ministers from Britain, China, France, Germany and Russia will not meet with Iran at the United Nations this week to discuss a return to nuclear deal talks.
The world powers held six rounds of indirect talks between the United States and Iran in Vienna to try and work out how both can return to compliance with the nuclear pact, which was abandoned by former US President Donald Trump in 2018.
Trump reimposed harsh sanctions on Iran, which then started breaching curbs on its nuclear program. Tehran has said its nuclear program is for peaceful energy purposes only.
US PRESIDENT Donald Trump ends the JCPOA. (credit: REUTERS)
Last week, Defense Minister Benny Gantz said Israel could accept a return to a US-brokered Iran nuclear deal, but they are calling on Washington to have a demonstration of power ready should negotiations turn sour.
"The current US approach of putting the Iran nuclear program back in a box, I'd accept that," Gantz said, referring to US President Joe Biden's efforts, but added that he wants the US to have a plan B with economic sanctions, and referred to Israel's plan C, which involves a military response.