The movie starts off with Geppetto, an Italian woodcarver, turning a piece of wood into a marionette. He gives the puppet human-like features, but it remains a lifeless puppet. Geppetto is, in some ways, the Demiurge of Plato and of the Gnostics. The word "Demiurge" is literally translated from Greek to "maker, artisan or craftsman." In philosophical terms, the Demiurge is the "lesser god" of the physical world, the entity which creates imperfect beings who are submitted to the pitfalls of the material life. Geppetto's house is filled with clocks of his craft, which, as you might know, are used to measure time, one of the great limitations of the physical plane. Excerpt from below.
The Esoteric Interpretation of Pinocchio
Released in 1940, Pinocchio is a Disney classic still appreciated by children and adults around the world.However, the story of this wooden marionette conceals a great spiritual allegory based on esoteric teachings, which is rarely discussed. We will look at the origins of this animated adventure and its underlying meaning.
I first watched Pinocchio as a child on a poorly recorded VHS tape with my little brother while eating Fugee-O's. I enjoyed the catchy tunes and Jiminy Cricket. I was, however, terrified by the Coachman and I did not quite like the underwater part. That's pretty much what I remembered of this Disney classic until recently. On a lazy Sunday night, I came across the "digitally remastered" movie on TV and I watched it "for old time's sake". What was supposed to be a fun trip down memory lane became a shocking revelation: Pinocchio was one of the deepest movies I've ever watched. Could it be a huge allegory about spirituality and modern society? Did I detect hints of initiation into occult Mysteries? I immediately started to research Pinocchio's origins and all of my theories were abundantly confirmed.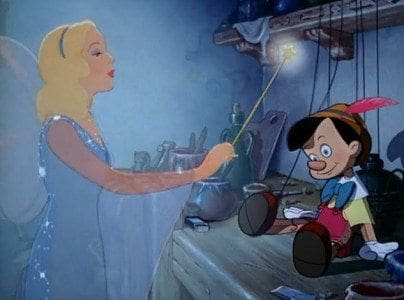 Needless to say, this movie is now a staple in today's popular culture. How many people have NOT watched this movie? On the other hand, how many people are aware of Pinocchio's true underlying meaning? Behind the story of the marionette trying to become a good boy is a deep spiritual story that has its roots in Mystery schools of occultism. Through the eyes of an initiate, the children's story about "being good" filled with lessons about "not lying" becomes a man's quest for wisdom and spiritual enlightenment. The brutally honest social commentaries of Pinnochio depicts a grim vision of our modern world and prescribes, perhaps, a way to escape its traps. Through the author's background and literary references, one can understand the hidden gnostic meaning of Pinocchio.
Pinocchio's Origins
Carlo Lorenzini aka Carlo Collodi
Pinocchio was originally written by Carlo Lorenzini (known by his pen name, Carlo Collodi) between 1881 and 1883 in Italy. Lorenzini began his writing career in newspapers (Il Lampione and Il Fanfulla ), where he often used satire to express his political views. In 1875, he entered the world of children's literature and used this outlet to transmit his political convictions. The series Giannettino, for example, often referred to the unification of Italy.
"Lorenzini became fascinated by the idea of using an amiable, rascally character as a means of expressing his own convictions through allegory. In 1880 he began writing Storia di un burattino ("The story of a marionette"), also called Le Avventure di Pinocchio, which was published weekly in Il Giornale dei Bambini (the first Italian newspaper for children)."
-Source
Le Avventure di Pinocchio, a fairy tale describing the adventures of a stubborn marionette in his quest to become a real boy, was published in 1883 (you can read the original book here, if you wish).
Lorenzini's work was not solely political. His writings, especially Le Avventure di Pinocchio contained a great deal of metaphysical aspects that are often overlooked by modern readers. One important fact needed to fully understand the depth of Lorenzini's work is that he was an active Freemason. In an essay called Pinocchio, mio Fratello (Pinocchio, my Brother) Italian Freemason Giovanni Malevolti describes the Masonic background of Lorenzini:
"Carlo Collodi's initiation into Freemasonry, even if cannot be found in any official records, is universally recognized and often referred to. Aldo Mola, a non-mason who is generally defined as an official historian of Freemasonry, has expressed with great certitude the writer's initiation into the Masonic family. Events in Collodi's life seem to further confirm this thesis: the creation in 1848 of a paper called "Il Lampione" (The Beacon), which, as stated by Lorenzini, "illuminated all who were teetering in darkness"; he also considered himself a "passionate disciple of Mazzini" (a prominent Italian Freemason and revolutionary)."

Collodi can also be found in this document  published by The Grand Lodge of All England listing famous Freemasons.
Malevolti continues:
"There are two ways to read "The Adventures of Pinocchio". The first is what I would call "profane" where the reader, most probably a child, learns about the mishaps of the wooden puppet. The second is a reading from a Masonic point of view, where heavy symbolism will complete, without replacing, the simple and lineary narration of events".
– Giovanni Malevolti, Pinocchio, mio Fratello (free translation)
Lorenzini wrote Pinocchio following the long tradition of mystic texts: a simple narrative story that can be enjoyed by the masses with a hidden meaning reserved to those "in the know."

Connect with Amos37
Stay up to date with Amos37.com eMail update (Weekly)
Free Resources for the growing Christian.
"But grow in grace, and [in] the knowledge of our Lord and Saviour Jesus Christ. To Him [be] glory both now and for ever. Amen."  2 Peter 3:18
Blue Letter Bible Free Online Bible & Study Tools & Commentaries
Bible Classes College Level For Free to Enroll   Track your progress.
Our Own Free Discipleship Course   In Video HD.