It's probably not the endorsement Biden's flailing administration wanted.
In a time when social networks have been swamped with photos of empty shelves from across the nation, Goldman's head commodity strategist and one of the closest-followed analysts on Wall Street, said he's never seen commodity markets pricing in the shortages they are right now.
"And I heard a voice in the midst of the four living creatures saying, "A quart of wheat for a denarius, and three quarts of barley for a denarius; and do not harm the oil and the wine." Rev. 6:6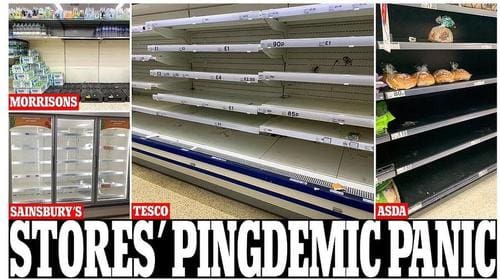 "I've been doing this 30 years and I've never seen markets like this," Currie told Bloomberg TV in an interview on Monday. "This is a molecule crisis. We're out of everything, I don't care if it's oil, gas, coal, copper, aluminum, you name it we're out of it."
In a reversal of the event from April 2020, when WTI oil briefly hit a negative $40 per barrell as speculators paid others to take deliverable oil contracts off their hands as they had no storage for it, futures curves in several key markets are trading in super-backwardation – a structure that indicates traders are paying bumper premiums for immediate supply. The downward sloping shape in prices is generally taken to mean commodities are severely undersupplied.
The shortage of, well, everything has translated into record price of virtually all commodities: the Bloomberg Commodity Spot Index, which tracks 23 energy, metals and crop futures, has touched a record this year. That has been driven in part by surging oil prices, which have hit their highest level since 2014 and earlier today Brent rose as high as $94, assuring even more pain at the pump.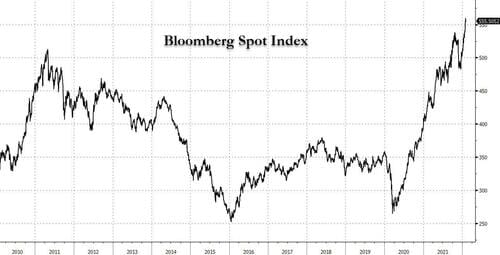 x
Read More @ Zero Hedge HERE
"I've Never Seen A Market Like This": Goldman Sees Shortages Of Everything, "You Name It, We're Out Of It"  https://amos37.com/ive-never-seen-a-market-like-this-goldman-sees-shortages-of-everything-you-name-it-were-out-of-it/