2. Today, the head of the Roman Catholic Church, the Pope, is still called the Pontifex Maximus. It's a political or governing office that has been in existence and in perpetual use for nearly 3,000 years.
3. In periods of joint rule (Emperor and Pontiff), at first only one of the emperors bore this title, as it occurred for the first time during the reign of Marcus Aurelius and Lucius Verus, when only Marcus Aurelius was pontifex maximus, but later two pontifices maximi could serve together.
From Catholic answers (here) regarding the Book of the Revelation:
"This prophecy is as it were the hub of the Apocalypse. Around it John gradually unfolds the plan God has for the future of his Church." Whereas, a Dispensational view of Revelation is God's plan for the Jewish people.
There is very good reason for the difference of opinion between Catholics and Dispensationalists and it is found in Revelation 13:11:
"Then I saw another beast coming up out of the earth, and he had two horns like a lamb and spoke like a dragon."
John depicts this second beast who speaks as a dragon (Satan), who gives a high ranking religious figure (resembling a pontiff) great authority over a false religious system.
The evil trinity (666) is depicted as Satan who takes the place of God the Father, the first beast (Rev. 13:1) assumes the place of Jesus Christ, and the second beast, the false prophet (Rev 13:11) has the role similar to the Holy Sprit.
So where is the church?
The church is promised by Jesus in Revelation 3:10 to be kept from (Greek, ek, out of) the time of God's wrath.
When Jesus Returns for His Church, the Church Age Ends – The Fullness of the Gentiles Has Come Luke 21:24:
"And Jerusalem will be trampled by Gentiles until the times of the Gentiles are fulfilled.."
Revelation 4:1 John is called up, modeling the rapture: "Come up hither …"
1 Corinthians 15:51-52 The final trumpet of the Church Age is sounded:
"Behold, I tell you a mystery: We shall not all sleep, but we shall all be changed in a moment, in the twinkling of an eye, at the last trumpet. For the trumpet will sound, and the dead will be raised incorruptible, and we shall be changed"
1 Thessalonians 4:16-18 In like manner, the Church is called up to meet Christ in the air:
"For the Lord Himself will descend from heaven with a shout, with the voice of an archangel, and with the trumpet of God. And the dead in Christ will rise first. Then we who are alive and remain shall be caught up together with them in the clouds to meet the Lord in the air. And thus, we shall always be with the Lord. Therefore comfort one another with these words."
The saved church dwells in the New Jerusalem: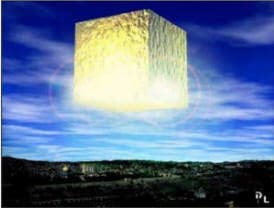 John 14:2-3; Hebrews 11:10; Revelation 21:1-4
"My Father's house has many rooms; if that were not so, would I have told you that I am going there to prepare a place for you? And if I go and prepare a place for you, I will come back and take you to be with me that you also may be where I am."
"For he looked for a city which hath foundations, whose builder and maker is God."
"And I saw an angel come down from heaven, having the key of the bottomless pit and a great chain in his hand. 2 And he laid hold on the dragon, that old serpent, which is the Devil, and Satan, and bound him a thousand years, 3 And cast him into the bottomless pit, and shut him up, and set a seal upon him, that he should deceive the nations no more, till the thousand years should be fulfilled: and after that he must be loosed a little season."
'Pope Francis' – A Wolf in Shepherd's Clothing?  https://amos37.com/pope-francis-a-wolf-in-shepherds-clothing/