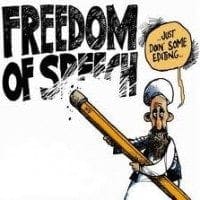 Getting to the basics of what the Media (which is owned by Muslim interests) and political correctness has paralyzed most Americans. In this part two of a two-part series, recorded at a recent VCY America rally, Usama presented powerful evidence warning listeners about the dangers of the Islamic faith. From the Quran and the Hadith, which Usama explained are biblical counterfeits, to the disturbing life of Mohammed, Islam's founding "prophet"; Usama removed the politically correct wrapping that clouds so much of what we hear concerning this religious system. You will find the Islamic teachings of lying to further Islam, hypocrisy, infiltration and much more. A must hear. Video also available.
This edition of Crosstalk is a continuation of yesterday's message from Egyptian-born Usama Dakdok that was recorded at a VCY America rally in November of 2010.
Revealing the truth about Islam. Part 2

In this second portion, Usama continues by explaining the following:
–The changeable nature of Islam.
–The difference between the Allah of Islam and the God of the Bible.
–The deception of Islam being taught in public schools.
–Islamic teachings proving that there is no such thing as a moderate Muslim because there is no such thing as moderate Islam.
Usama concludes by explaining that the longer we continue in our ignorance of Islam, the faster they will take over our land and our freedom. In spite of the adversarial relationship that Islam teaches, Usama urges us all to reach out to Muslims and communicate the hope that we have in Christ Jesus.
NOTE: This program first aired December 15, 2010
Show Information
Air Date: July 12, 2011
Host: Gordon Morris Guest: Usama Dakdok
More Information
Usama Dakdok's website:
The entire rally message can be ordered on as a DVD for a donation of $20.00, or as two CD's for $6.00, the same as the price of one CD.
Order online:
Or write:
Crosstalk
3434 West Kilbourn Avenue
Milwaukee, WI 53208
Or call 1-800-729-9829 8am-5pm Central M-F
Connect with Amos37
Stay up to date with Amos37.com eMail update (Weekly)
Free Resources for the growing Christian.
"But grow in grace, and [in] the knowledge of our Lord and Saviour Jesus Christ. To Him [be] glory both now and for ever. Amen." 2 Peter 3:18
Blue Letter Bible Free Online Bible & Study Tools & Commentaries
Bible Classes College Level For Free to Enroll Track your progress.
Our Own Free Discipleship Course In Video HD.