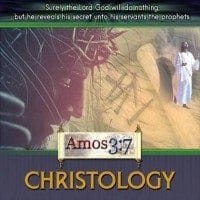 The word "Christology" comes from two Greek words meaning "Christ / Messiah" and "word" – which combine to mean "the study of Christ." Christology is the study of the Person and work of Jesus Christ. There are numerous important questions that Christology answers:  Today Dr. Hocking continues our look at the deity of Christ by examining His attributes ie. Creator & Names.  The Abilities That Prove He Is God.  Today we look at The Abilities That Prove He (Jesus) Is God.  Audio & Scripture links attached below and hyper linked for your further study.
"Listen to Me, O Jacob, And Israel, My called: I am He, I am the First, I am also the Last. Isaiah 48:12
Christology Session 06
The Abilities That Prove He Is God
Christology Session 06 The Abilities of Jesus That Prove He is God: Play Now
We are continuing to study the deity of Christ. Turn to Isaiah 44. We have already looked at His names that prove He is God. He is called "God," and the "Son of God." If I were to ask you what that means, you, of course, will know. It refers to position not origin. The fact of the matter is that the Greek word for "born one" is never used of Him in the New Testament. He is the heir. He is called the "Lord"—kurios is what translates the Hebrew word, Yahweh. He is called the "Lord of Glory." He is called the "Holy One." One hundred and eight times the Bible says that He is the "Holy One of Israel."
Now Isaiah 44 presents a very critical issue as it relates to the deity of Christ. He is called the First and the Last. Look at Isaiah 44:6. I pointed out to you before that the word Yahweh is used twice in this verse. The Redeemer is called "Yahweh of Hosts." It says, "Thus saith Yahweh, the King of Israel and His redeemer, Yahweh of Hosts, [Lord Sabbaoth]." The word Sabbaoth means hosts or armies. "I am the first and I am the last and beside Me there is no God." Now I know the statement, "I am the first and the last and beside Me is no God," is a statement of deity. Over in Isaiah 48:12 it says, "Harken unto Me O Jacob and Israel, my called, I am He. I am the first. I also am the last." There it is again. "My hand hath also laid the foundation of the earth." This one is clearly the creator.
Scripture References for Jesus Abilities That He is God:
Isa 44:6; Isa 48:12-17; Rev 1:17-18; Rev 2:8; Rev 22:12-13, 16; Isa 9:6; 1Jo 5:11; Mal 3:6; Hbr 1:8-12; Hbr 13:8; Phl 2:5-11; Mat 18:15-20; Mat 28:20; Col 3:11; Jhn 14:23; 1Jo 2:1-2; Col 2:3; Jhn 2:23-25; Mar 2:6, 8; Phl 3:20-21; Rev 1:8; Rev 22:12-13; Col 1:19; Col 2:9-10; Isa 9:6; Isa 55:8-9; Mat 11:27; Rom 11:33-36; Jhn 1:3, 10; Col 1:16; Job 26:13; Col 1:17; Hbr 1:2-3; Mat 4:23-24; Jhn 11
Connect with Amos37
Stay up to date with Amos37.com eMail update (Weekly)
Free Resources for the growing Christian.
"But grow in grace, and [in] the knowledge of our Lord and Saviour Jesus Christ. To Him [be] glory both now and for ever. Amen."  2 Peter 3:18
Blue Letter Bible Free Online Bible & Study Tools & Commentaries
Bible Classes College Level For Free to Enroll   Track your progress.
Our Own Free Discipleship Course   In Video HD.