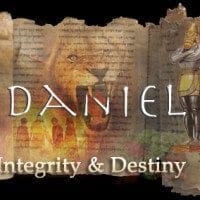 THE BOOK OF DANIEL is quoted often in the New Testament Book of Revelation. In many ways, the two books need to be read and studied together. Daniel lived at an important time of ancient history and his story is critical to our understanding of what is happening today. His visions speak powerfully of the end times, and his writing continues to exalt the "Most High God." The accuracy and reliability of his remarks concerning future events have caused many to question his authorship of this book. However we have complete confidence that he not only wrote the book, but that God used him powerfully to bring His message to His people about what is about to happen in our time.  Daniel Chapter 10 The Dark Side Spiritual Warfare.
Daniel Chapter 10 The Dark Side
Daniel 10 Hyperlink
1 In the third year of Cyrus king of Persia a thing was revealed unto Daniel, whose name was called Belteshazzar; and the thing was true, but the time appointed was long: and he understood the thing, and had understanding of the vision.
2 In those days I Daniel was mourning three full weeks.
3 I ate no pleasant bread, neither came flesh nor wine in my mouth, neither did I anoint myself at all, till three whole weeks were fulfilled.
4 And in the four and twentieth day of the first month, as I was by the side of the great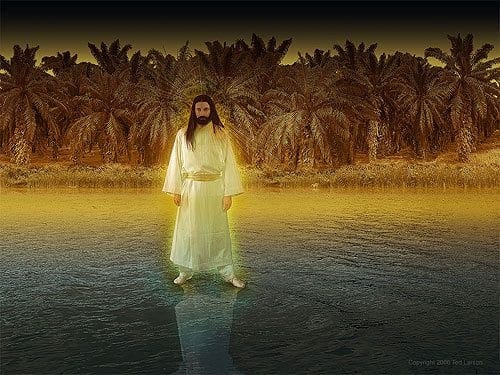 river, which is Hiddekel;
5 Then I lifted up mine eyes, and looked, and behold a certain man clothed in linen, whose loins were girded with fine gold of Uphaz:
6 His body also was like the beryl, and his face as the appearance of lightning, and his eyes as lamps of fire, and his arms and his feet like in colour to polished brass, and the voice of his words like the voice of a multitude.
7 And I Daniel alone saw the vision: for the men that were with me saw not the vision; but a great quaking fell upon them, so that they fled to hide themselves.
8 Therefore I was left alone, and saw this great vision, and there remained no strength in me: for my comeliness was turned in me into corruption, and I retained no strength.
9 Yet heard I the voice of his words: and when I heard the voice of his words, then was I in a deep sleep on my face, and my face toward the ground.
10 And, behold, an hand touched me, which set me upon my knees and upon the palms of my hands.
11 And he said unto me, O Daniel, a man greatly beloved, understand the words that I speak unto thee, and stand upright: for unto thee am I now sent. And when he had spoken this word unto me, I stood trembling.
12 Then said he unto me, Fear not, Daniel: for from the first day that thou didst set thine heart to understand, and to chasten thyself before thy God, thy words were heard, and I am come for thy words.
13 But the prince of the kingdom of Persia withstood me one and twenty days: but, lo, Michael, one of the chief princes, came to help me; and I remained there with the kings of Persia.
14 Now I am come to make thee understand what shall befall thy people in the latter days: for yet the vision is for many days.
15 And when he had spoken such words unto me, I set my face toward the ground, and I became dumb.
16 And, behold, one like the similitude of the sons of men touched my lips: then I opened my mouth, and spake, and said unto him that stood before me, O my lord, by the vision my sorrows are turned upon me, and I have retained no strength.
17 For how can the servant of this my lord talk with this my lord? for as for me, straightway there remained no strength in me, neither is there breath left in me.
18 Then there came again and touched me one like the appearance of a man, and he strengthened me,
19 And said, O man greatly beloved, fear not: peace be unto thee, be strong, yea, be strong. And when he had spoken unto me, I was strengthened, and said, Let my lord speak; for thou hast strengthened me.
20 Then said he, Knowest thou wherefore I come unto thee? and now will I return to fight with the prince of Persia: and when I am gone forth, lo, the prince of Grecia shall come.
21 But I will shew thee that which is noted in the scripture of truth: and there is none that holdeth with me in these things, but Michael your prince.
Connect with Khouse

Download Pdf Notes For Daniel Commentary
Chuck Missler Bio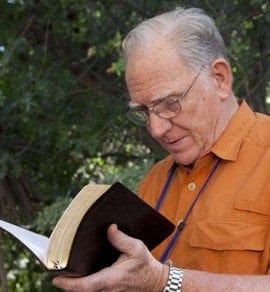 Recruited into senior management at the Ford Motor Company in Dearborn, Michigan, Chuck established the first international computer network in 1966. He left Ford to start his own company, a computer network firm that was subsequently acquired by Automatic Data Processing (listed on the New York Stock Exchange) to become its Network Services Division.
Returning to California, Chuck found himself consulting, organizing corporate development deals, serving on the board of directors at several firms, and specializing in the rescuing of financially troubled technology companies. He brought several companies out of Chapter 11 and into profitable operation. Chuck thrived on this type of work.
As Chuck notes, his day of reckoning came several years ago when — as the result of a merger — he found himself the chairman and a major shareholder of a small, publicly owned development company known as Phoenix Group International. The firm established an $8 billion joint venture with the Soviet Union to supply personal computers to their 143,000 schools. Due to several unforeseen circumstances, the venture failed. The Misslers lost everything, including their home, automobiles and insurance.
It was during this difficult time that Chuck turned to God and the Bible. As a child he developed an intense interest in the Bible; studying it became a favorite pastime. In the 1970s, while still in the corporate world, Chuck began leading weekly Bible studies at the 30,000-member Calvary Chapel Costa Mesa, in California. He and Nancy established Koinonia House in 1973.
Free Resources for the growing Christian.
"But grow in grace, and [in] the knowledge of our Lord and Saviour Jesus Christ. To Him [be] glory both now and for ever. Amen."  2 Peter 3:18
Blue Letter Bible Free Online Bible & Study Tools & Commentaries
Bible Classes College Level For Free to Enroll   Track your progress.
Our Own Free Discipleship Course   In Video HD.