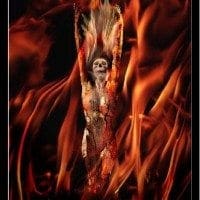 Are you sure you're going to heaven when you die? Or are you willing to chance your eternal soul and possibly end up in hell fire?? Why not make sure of the matter today, while there is still time?  God loves you and has paid the price of shedding His blood on the cross, died and rose again for your sins.  Receive Him today.
The good news is: You can KNOW that you're going to heaven. The Bible clearly states:
"These things have I written unto you that believe on the name of the Son of God; that ye may know that ye have eternal life, and that ye may believe on the name of the Son of God." 1 John 5:13
You see, God wants us to KNOW, and have the matter settled. There can be no misery greater than living life wondering if some day you will lift up your eyes in hell!
The Bible so wonderfully makes salvation clear. It is a gift given of God, that cannot be earned in any way of our own doing.
HELL FIRE: The Most Powerful Sermon Ever!!!
"For by grace are ye saved through faith; and that not of yourselves: it is the gift of God: Not of works, lest any man should boast." Ephesians 2:8-9

"Not by works of righteousness which we have done, but according to his mercy he saved us, by the washing of regeneration, and renewing of the Holy Ghost." Titus 3:5
Jesus Christ made this wonderful, free salvation possible.
"For God so loved the world, that he gave his only begotten Son, that whosoever believeth in him should not perish, but have everlasting life." John 3:16
Do you see what the verse says? It is simply BELIEF, or rather FAITH, TRUST, in Jesus Christ that saves. I am so thankful for these following verses that tell of man who sincerely wanted to be saved, and was told how:
"Then he called for a light, and sprang in, and came trembling, and fell down before Paul and Silas, And brought them out, and said, Sirs, what must I do to be saved?
And they said, Believe on the Lord Jesus Christ, and thou shalt be saved, and thy house." Acts 16:29-30
Christ came to this earth, God in the flesh, a perfect man who never committed sin. He sacrificed His life of the cross of Calvary, shed His blood, as PAYMENT for our sin. You see, our sin separates us from a perfect and Holy God. We have no way to approach God in and of ourselves, for He is HOLY, righteous, perfect, and pure. He cannot tolerate sin. So Jesus took upon Himself the sins of the world, that we might be reconciled *(bought back) to God. We can come to the Father through Jesus Christ His Son!
"Jesus saith unto him, I am the way, the truth, and the life: no man cometh unto the Father, but by me." John 14:6
So what must you believe, more specifically, about Jesus Christ to be eternally saved? The Bible tells us in Romans 10:9.
"That if thou shalt confess with thy mouth the Lord Jesus, and shalt believe in thine heart that God hath raised him from the dead, thou shalt be saved."
Would you be willing to put your whole-hearted faith on Jesus to make it to heaven… instead of trusting yourself and your own way? If you say yes, and will trust what the Bible promises to every sinner who would believe on Jesus Christ, would you humbly go to God in prayer and ask Him to save you in the name of Jesus?
I pray many will come to know of the wonderful saving grace of Jesus Christ.
An Excellent (important) Message & Warning about HELL by Dr John Barnett— formerly an Associate Pastor to Dr John MacArthur at Grace Community Church in CA & a Professor at the Master's Seminary.
Matt 23:33 Jesus says, "Snakes! Sons of vipers! (Pharisees) How will you escape the Judgment of HELL?"
Matt 25:29-30 Jesus says, "To those who use well what they are given, even MORE will be given, and they will have an ABUNDANCE. But from those who do NOTHING, even what little they have will be taken away. Now throw this USELESS SERVANT into OUTER DARKNESS, where there will be WEEPING & GNASHING OF TEETH."
Matt 25:41 Jesus says, "Then the King will turn to those on the left and say, 'Away with you, you cursed ones, into the Eternal Fire (HELL) prepared for the Devil and His Demons."
Matt 25:46 Jesus says, "And they will go away into Eternal Punishment (HELL), but the Righteous will go into Eternal Life."
Mark 9:43-48 Jesus says, "If your HAND causes you to SIN, Cut It Off. It's better to enter Eternal Life with only ONE HAND than to go into the UNQUENCHABLE FIRE OF HELL withTWO HANDS … If your FOOT causes you to SIN, Cut It Off. It's better to enter Eternal Life with only ONE FOOT than to be THROWN INTO HELL with TWO FEET… And if your EYE causes you to SIN, Gouge It Out. It's better to enter the Kingdom of God with only ONE EYE than to have TWO EYES and be THROWN INTO HELL, where the MAGGOTS NEVER DIE and theFIRE NEVER GOES OUT."
Luke 6:24-26 Jesus says, "What SORROWS AWAITS YOU who are RICH, for you have youronly Happiness now. What SORROWS AWAITS YOU who are FAT & PROSPEROUS now, for a time of AWFUL HUNGER awaits you. What SORROWS AWAITS YOU who LAUGH NOW, for YOUR LAUGHING WILL TURN TO MOURNING AND SORROW. What SORROWS AWAITS YOU who are PRAISED BY THE CROWDS, for their Ancestors also Praised FALSE PROPHETS."
Luke 12:5 Jesus says, "I'll tell you whom to Fear. Fear God, who has the power to kill you and then THROWN INTO HELL. Yes, he's the one to Fear."
Connect with Amos37
Stay up to date with Amos37.com eMail update (Weekly)