Many believe that we are the generation that will witness the return of Christ. Jesus said that those alive for His second coming would be subject to the greatest onslaught of deception ever leveled at the body of Christ – and that this deception would be predicated upon signs and wonders.  I personally have been to some of these events when I was a new Christian, then as I kept reading my bible, something was wrong, very wrong with what we seeing.  The bible did not validate this but rather it warned that deceivers would come over and over.
Signs & Wonders Movement Video Expose
Then certain of the scribes and of the Pharisees answered, saying, Master, we would see a sign from thee. But he answered and said unto them, An evil and adulterous generation seeketh after a sign; and there shall no sign be given to it, but the sign of the prophet Jonas… Matthew 12:38-39
For many professing Christians, this could be one of the most important videos you ever watch. The lies, deception, false miracles, and faulty theology of the charismatic movement are exposed. This documentary features international Bible teachers and authors – plus experts from the world of music, illusion, and medicine – and combines their knowledge and expertise to present the most shocking expose of deception ever to hit the church.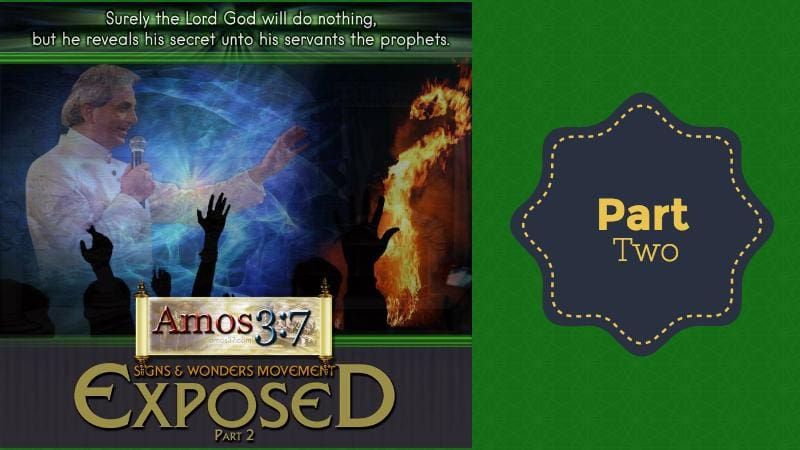 Connect with Amos37
Stay up to date with Amos37.com eMail update (Weekly)
Free Resources for the growing Christian.
"But grow in grace, and [in] the knowledge of our Lord and Saviour Jesus Christ. To Him [be] glory both now and for ever. Amen."  2 Peter 3:18
Blue Letter Bible Free Online Bible & Study Tools & Commentaries
Bible Classes College Level For Free to Enroll   Track your progress.
Our Own Free Discipleship Course   In Video HD.