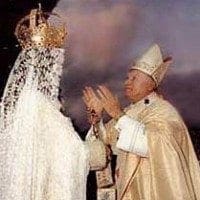 Is Catholicism a valid expression of Christianity? Is there such a thing as an "Evangelical Catholic", or is that expression an oxymoron? Should Evangelicals and Catholics cooperate in evangelistic efforts? Do Evangelicals and Catholics rely on the same source of authority? Do both believe and proclaim the same Gospel?  What are the differences and are they significant in light of the reformation and history of what Rome promotes?   For this and more see this informative video.  God is love and those who worship Him must worship Him in Spirit and Truth. John 4:21-26
These and many other questions concerning the relationship between Catholicism and true Christianity are addressed in this riveting interview of Evangelist Mike Gendron. Mike was born and raised in the Catholic Church. For over 30 years he believed and taught from the sacraments, good works, law keeping, the sacrifice of the Mass, indulgences, purgatory, and penance. During that time he was a businessman serving a Fortune 500 company.
Pope Francis How Does He Fit in Bible Prophecy?
"It is important to realize that most of the clergy and lay people that teach Roman Catholic doctrine are not deceiving people with malicious intent.  They are simply passing on what has been passed on to them, sincerely believing that they have the truth.  Catholics must believe ALL dogmas of their church or be anathema (eternally condemned and accursed) by their church.  Prayer, love, compassion and understanding are needed along with the power of the Word of God to penetrate their hearts. Patience is needed to untangle Roman Catholics from the dogmatic web in which they are held captive"  -Mike Gendron
When Mike discovered the pure and simple Gospel of the New Testament, his life was transformed. He quit his business carrer, entered Dallas Theological Seminary, and ultimately formed an evangelistic ministry to reach Catholics called Proclaiming the Gospel (http://www.pro-gospel.org). Today he is in great demand all across America and around the world as a speaker who is an expert defender of the faith.
Dr. David R. Reagan
Lamb and Lion Ministries
P.O.Box 919
McKinney, TX 75070
972-736-3567
http://www.lamblion.com
Proclaiming the Gospel
PO Box 940871 Plano, Texas 75094
Phone 972-495-0485
http://www.pro-gospel.org
[email protected]
Free Resources for the growing Christian.
"But grow in grace, and [in] the knowledge of our Lord and Saviour Jesus Christ. To Him [be] glory both now and for ever. Amen."  2 Peter 3:18
Blue Letter Bible Free Online Bible & Study Tools & Commentaries
Bible Classes College Level For Free to Enroll   Track your progress.
Our Own Free Discipleship Course   In Video HD.