The Message Bible: What is the Message?  The woman who coined the term New Age, occultist Alice Bailey, (believing that we were on the threshold of a new spiritual awakening) said that this new enlightened age would come, not around the Christian church, but rather through it. She said the outer layers would be initially kept intact (i.e., Christian terminology would still be used) but the changes would take place obscurely from the inside.1 Is this not what we are witnessing happening today through the NAR, (New Apostolic Reformation), Kingdom Dominion, Purpose Driven, contemplative, emerging, interfaith church?
Eugene Peterson The Message of The Wolf
But he that is an hireling, and not the shepherd, whose own the sheep are not, seeth the wolf coming, and leaveth the sheep, and fleeth: and the wolf catcheth them, and scattereth the sheep. The hireling fleeth, because he is an hireling, and careth not for the sheep. John 10:12-13
"The goal of the New Age Movement has consistently been to bring in the Age of Aquarius when all will recognize 'the God within themselves.' A major step towards this in the words of the New Age prophetess Alice Bailey, is 'the regeneration of the churches.' Her vision was that… 'The Christian church in its many branches can serve as a St. John the Baptist, as a voice crying in the wilderness, and as a nucleus through which world illumination may be accomplished.'  -Alice Bailey
The Message Bible: What is the Message?
[bctt tweet="The Message Bible? What is the message? We find the occult law of reversal. Worldly Fail!"]
We are commanded as Christians to Test Everything to see if it is of God. (Romans 12:2)  "And be not conformed to this world: but be ye transformed by the renewing of your mind, that ye may prove what [is] that good, and acceptable, and perfect, will of God."
1) to test, examine, prove, scrutinise (to see whether a thing is genuine or not), as metals
2) to recognise as genuine after examination, to approve, deem worthy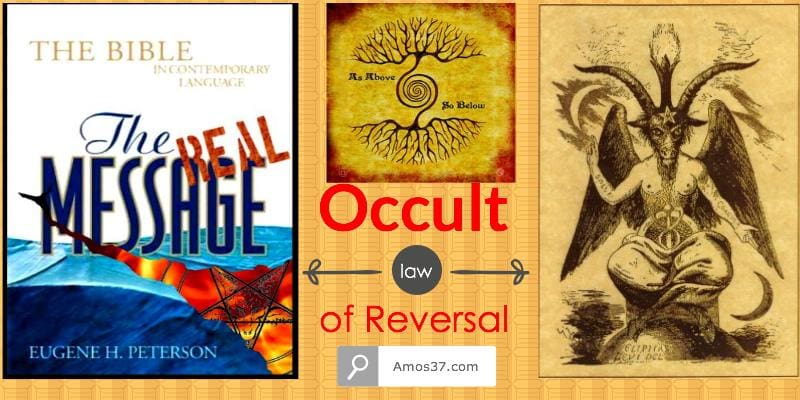 The Message Fails The Test, It is Worldly
Found this interesting post about The Message Bible. What is your experience with this popular translation? Does your local church use this? Check out the article:  The Message Bible pointing to One World Religion  The Message "Bible" is gaining popularity in leaps and bounds, deceiving readers and pointing them towards the new age and a one world religion.
The author of the Message Bible Eugene Peterson spreads falsehood supported by many.
The Message is being read across the world, a paraphrase of scripture in 'contemporary' language. This book uses vulgar language in attempts to be "hip" and in tune with the language of our culture.
I'm sorry to say, I have heard this book quoted by Dr. David Jeremiah several times and have since stopped listening to his sermons.
Dr. Jeremiah is in good company as the following well known Christians also endorse the Message. The list of the endorsers might surprise many. The list is published below. NavPress used their names in the promotion of this book:
Here are some quotes from well known Christians that praise the Message bible:
"We should thank the Lord for the ministry Eugene Peterson has performed in The Message. He has given the church an opportunity to read the Bible afresh"
-CHRISTIANITY TODAY
"The Message is exegetically sensitive yet speaks in the language of today—with the special flair for English style that has come to mark Peterson's work." —GORDON D. FEE, author of How to Read the Bible for All It's Worth and professor of New Testament, Regent College
"I thank God for The Message. In it Eugene Peterson gives a fresh and authentic voice to the Scripture. I recommend it highly." —RICHARD J. FOSTER, author of Celebration of Discipline
"Eugene Peterson's language makes the Bible exciting and strong, sweet, sharp, persuasive, painful, personal, contemporary, kind, and dramatic—and available to every reader of this age." —WALTER WANGERIN, JR., author of The Book of the Dun Cow and Mourning Into Dancing
"At last, a translation of tone. I read not only the words, but I hear a voice behind them speaking—as, in fact, all these documents were originally experienced. Peterson's translation transforms the eye into an ear, opening the door of the New Testament wider than perhaps it has ever been opened." —MICHAEL CARD, singer, songwriter, and author of Immanuel: Reflections on the Life of Christ
"WOW! What a treasure The Message is. I am going to carry it with me. This is a treasure that I will want to use wherever I am." —JONI EARCKSON TADA, author
Rick Warren endorses the Message and uses it in "The Purpose Driven Life" when quoting scripture. And why shouldn't he? He is a member of the Council on Foreign Relations and hosted Tony Blair at his church to discuss world peace in globalized economy.  The Message points towards a global spirituality
The Message uses "hip" language to make it easier to read. What it does is profane the sanctity of His Word and conforms it to the world, attempting to make the Bible worldly and in sync with the times.
Let's look at some examples:
Matthew 6:9-43

After this manner therefore pray ye: Our Father which art in heaven, Hallowed be thy name.

Thy kingdom come, Thy will be done in earth, as it is in heaven.

Give us this day our daily bread.And forgive us our debts, as we forgive our debtors.

And lead us not into temptation, but deliver us from evil: For thine is the kingdom, and the power, and the glory, for ever. Amen

And forgive us our debts, as we also have forgiven our debtors

And lead us not into temptation, but deliver us from the evil one.
Now let's look at the same verses in the Message:
Our Father in heaven,
Reveal who you are.
Set the world right;
Do what's best— as above, so below.
Keep us alive with three square meals.
Keep us forgiven with you and forgiving others.
Keep us safe from ourselves and the Devil.
You're in charge!
You can do anything you want!
You're ablaze in beauty!
Yes. Yes. Yes.
The Message Bible: What is the Message? Seems to be a New Age dream translation!
This paraphrase of scripture subtly deceives its readers.
What is alarming about this passage is "as above, so below" is deep in occult practice and philosophy.
See our article on the Occult Law of Reversal.  See how they practice making evil good and good evil.
This language is used in black magic and it's theory practiced by Aleister Crowley, the author of the satanic bible.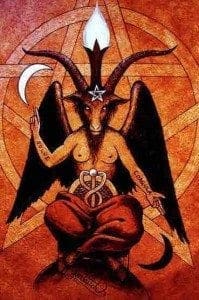 Lady Gaga and many others are posing in the As Above So Below pose of Baphomet –
" He is 'The Devil' of The Book of Thoth, and His emblem is BAPHOMET, the Androgyne who is the hieroglyph of arcane perfection… He is therefore Life, and Love. But moreover his letter is ayin, the Eye, so that he is Light; and his Zodiacal image is Capricornus, that leaping goat whose attribute is Liberty."- Aleister Crowley
The Message Bible: What is the Message?
In the next passage, we will see politically correct environmentalism and the deletion of sins.
1 Corinthians 6: 9-11
Or do you not know that wrongdoers will not inherit the kingdom of God? Do not be deceived: Neither the sexually immoral nor idolaters nor adulterers nor men who have sex with men nor thieves nor the greedy nor drunkards nor slanderers nor swindlers will inherit the kingdom of God.
The Message (same verse)
Don't you realize that this is not the way to live? Unjust people who don't care about God will not be joining in his kingdom.
Those who use and abuse each other, use and abuse sex, use and abuse the earth and everything in it, don't qualify as citizens in God's kingdom.
A number of you know from experience what I'm talking about, for not so long ago you were on that list. Since then, you've been cleaned up and given a fresh start by Jesus, our Master, our Messiah, and by our God present in us, the Spirit.
(end of Message bible quote)
Where does it say anything in scripture about "abusing the earth" in Corinthians?
It's not there.
This has been added to the scripture to be politically correct and endorse the global warming agenda. Idolatry and homosexuality are clearly deleted from these verses.
The Message uses vulgar language that is unnecessary:
Ezekiel 16:24-27 (from the Message)
At every major intersection you built your bold brothels and exposed your sluttish sex, spreading your legs for everyone who passed by. "'And then you went international with your whoring. You fornicated with the Egyptians, seeking them out in their sex orgies. The more promiscuous you became, the angrier I got. Finally, I intervened, reduced your borders and turned you over to the rapacity of your enemies. Even the Philistine women – can you believe it? – were shocked at your sluttish life.
The NIV version is more dignified. We get the picture without having to be vulgar:
you built a mound for yourself and made a lofty shrine in every public square. At the head of every street you built your lofty shrines and degraded your beauty,offering your body with increasing promiscuity to anyone who passed by.You engaged in prostitution with the Egyptians, your lustful neighbors, and provoked me to anger with your increasing promiscuity.
To read more comparisons of the Message to scripture click here.
The Message Bible is subtle in it's deception leaving out homosexual sin in some passages, promoting the global warming agenda in others. New age concepts are abound in this book as well as references to mysticism and esoteric language.
What better way to convince the world that 'god' wants world government and a world religion for 'peace'?
This bible subtly deceives and as well known Christian teachers embrace and endorse this book, the more read it without question or discernment.
Just a few days ago a new humanitarian bible was released. It was written by an atheist and it deletes God and adds evolution and a spew of lies.
I do believe the Word of God will be viciously attacked as the antichrist prepares to take center stage. One day it is possible that only bibles that are politically correct will be able to be printed and sold.
Thank Jesus you are able to possess a bible and cherish it's words in your heart.
In the beginning, sin began by questioning the Word. As so it will be in these last days. For the enemy has little time.
Genesis 3:1
Now the serpent was more crafty than any of the wild animals the LORD God had made. He said to the woman, "Did God really say, 'You must not eat from any tree in the garden'?"
Revelation 22:18
I warn everyone who hears the words of the prophecy of this book: If anyone adds anything to them, God will add to him the plagues described in this book.
NavPress used their names in the promotion of this book:
Amy Grant,
Benny Hinn,
Bill Hybels,
Bill and Gloria Gaither,
Billy Graham,
Brock and Bodie Thoene,
Carol Kent,
Chuck Swindoll,
Cynthia Heald,
Dan Quayle,
Dave Dravecky,
Toby-DC Talk,
Don Moen,
Duffy Robbins,
Gary Chapmen,
Gary Smalley,
Gordon Fee,
Gordon MacDonald,
Harold Fickett,
J.I. Packer,
Jack Hayford,
Jay Kesler,
Jerry Jenkins,
Jerry Savelle,
Jim Burns,
Jimmy and Rosalyn Carter,
John Maxwell,
Joni Eareckson
Tada,
Joyce Meyer,
Kathy Peel,
Keith Miller,
Kenneth Copeland,
Leighton Ford,
Leith Anderson,
Luci Shaw,
Madeleine L'Engle,
Max Lucado,
Michael Card,
Michael W. Smith,
Mike Yaconelli,
Newsboys,
Patsy Clairmount,
Pat Williams,
Phil Driscoll,
Rebecca St. James,
Richard Foster,
Rick Warren,
Rod Parsley
Ron Kenoly,
Stuart and Jill Briscoe,
Tim Kimmel,
Tony Campolo,
Tremper Longman,
Bono of U2,
Vernon Grounds,
Walter Kaiser Jr.,
Walter Wangerin,
Warren Wiersbe,
Wayne Rice,
Wellington Boone.
Frederick Buechner.
Connect with Amos37
Stay up to date with Amos37.com eMail update (Weekly)
Free Resources for the growing Christian.
"But grow in grace, and [in] the knowledge of our Lord and Saviour Jesus Christ. To Him [be] glory both now and for ever. Amen."  2 Peter 3:18
Blue Letter Bible Free Online Bible & Study Tools & Commentaries
Bible Classes College Level For Free to Enroll   Track your progress.
Our Own Free Discipleship Course   In Video HD.