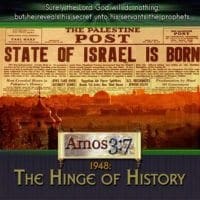 1948 The Hinge of History:
The Parable of the Fig Tree, the Lord Jesus gave the most amazing sign of the end of the age as his disciples had asked for in Matthew 24. Hal Lindsey gives us a tour of major events in history that all took place in 1948. Two parts that will help you to see the budding of the fig tree as we should be getting the gospel out to the world. Not to stick your head in the sand. Prophecy is a gift to the Church and should cause great hope, not gloom and doom. Jesus said of the birth pains, And you will hear of wars and rumors of wars. See that you are not troubled; for all these things must come to pass, but the end is not yet. Matthew 24:6-8. Our redemption is drawing near. Maranatha!
1948 The Hinge of History
This article on 1948 is based on Hal Lindsey's research. I was so impressed by it that I wanted to share it. I have also embedded his video commentary on this subject on this page.
Listed below are some astounding events that occurred in or just before the year that has proved to be very significant in relation to Bible Prophecy.
Major Events that Occurred in 1948 That Connect With Bible Prophecy:
The Jews were restored to their homeland after being dispersed among the nations for close to 2000 years.
The first issue of the magazine the Atomic Scientist introduced the Doomsday Clock was introduced in June of 1947, It was set a 7 minutes til midnight.
Bell Labs and AT&T developed the transistor which led to the birth of the computer age.
GATT – The General Agreement on Tariffs and Trade was created. This paved the way for a global economy. Gatt was replaced by the World Trade Organization.
The Universal Declaration of Human Rights – the constitution of the United Nations was created in 1948. The beginning of a global government.
The Treaty of Rome was signed. This was the beginning of the European Economic Community which is now the European Union.
The World Council of Churches was formed in Amsterdam that year. This was the beginning of the Ecumenical church which will lead to a one world religion.
The Treaty of Brussels was signed which was the predecessor of NATO.
Connect with Amos37
Stay up to date with Amos37.com eMail update (Weekly)
Free Resources for the growing Christian.
"But grow in grace, and [in] the knowledge of our Lord and Saviour Jesus Christ. To Him [be] glory both now and for ever. Amen."  2 Peter 3:18
Blue Letter Bible Free Online Bible & Study Tools & Commentaries
Bible Classes College Level For Free to Enroll   Track your progress.
Our Own Free Discipleship Course   In Video HD.