"Did Miley Cyrus 'Flirt With Bad Taste' Or Dive Right In?" asks NPR. "Miley Cyrus' VMAs Performance: Offensive or Awesome?" posits Billboard. "Gaga Who? Miley Cyrus Snatches Crown for Queen of Obscene at VMAs" declares Yahoo Music. One reporter noted that 20-year-old Cyrus' performance at the Video Music Awards, which started with the former Disney teen idol doing a burlesque routine with oversized teddy bears and ended with her using a foam finger to imitate having sex with herself and the audience, "left Gaga in the dust with her gratuitous show of both skin and gesturing this year."  Adult oriented expose by Goodfight Ministries
Disney Star Miley Cyrus Selling Immorality
"But the cowardly, unbelieving abominable, murderers, sexually immoral, sorcerers, idolaters, and all liars shall have their part in the lake which burns with fire and brimstone, which is the second death."  Revelation 21:8
"In a market that sells high heels for babies and thongs for tweens, it doesn't take a genius to see that sex, if not porn, has invaded our lives. Whether we welcome it or not, television brings it into our living rooms and the Web brings it into our bedrooms." —Jessica Bennett, "The Pornification of a Generation"
Disney Gone Wild: Miley Cyrus & Peversion
The mind is trained to shut out all independent ideas and initiatives, and to passively welcome a state of "group-think" which follows the Hierarchy's directives and is freed from any other restraint (such as traditional morality). Disciples with no patience for plodding toward enlightenment can "accelerate on their path" through drugs, blood sacrifices or deviant sex acts. (In Hindu tradition this path is Tantra Yoga, among Jewish Kabbalists it's the Sabbateans and Frankists, and under the generic label it is Satanism). Conditioning Society advice from demons
Miley Cyrus has become one of the most controversial and influential music artists since concluding her time on Disney's Hanna Montana. She is now influencing her young fans with sexual perversion and drug use through her songs and music videos, not to mention her widely publicized 2013 MTV VMA Music Awards performance. Tragically, many have followed the ex-Disney child star into incredibly vulgar behavior.
[bctt tweet="Why are once ex Disney stars now pushing sexual perversion mainstream. Miley Cyrus just one of many. #porn #disney #cyrus" username=""]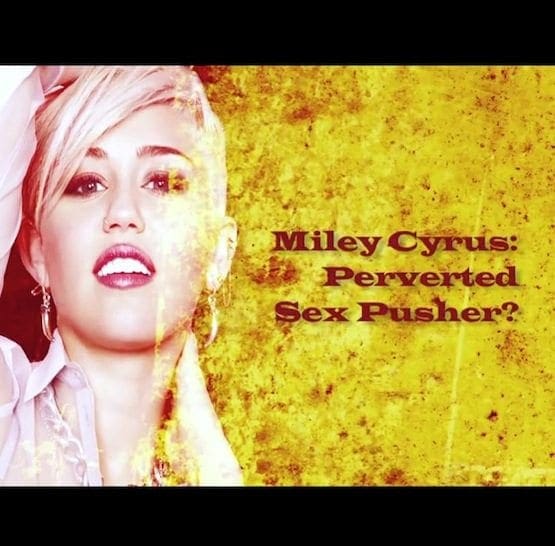 If you like the work we are doing here at Good Fight Ministries, we invite you to share this video with everyone you know and subscribe to Good Fight YouTube channel. Also Good Fight on Facebook.  Like Us on Facebook!
More at Cup of Joe a Good Fight Ministries blog.
© Good Fight Ministries. All rights reserved.

Connect with Amos37
Free Resources for the growing Christian.
"But grow in grace, and [in] the knowledge of our Lord and Saviour Jesus Christ. To Him [be] glory both now and for ever. Amen."  2 Peter 3:18
Blue Letter Bible Free Online Bible & Study Tools & Commentaries
Bible Classes College Level For Free to Enroll   Track your progress.
Our Own Free Discipleship Course   In Video HD.